NA News Issue 40 - 21st November 2022
Neuroacanthocytosis information and research
Trustees Meet Patients Around the World
Travel plans include visits to patients and their families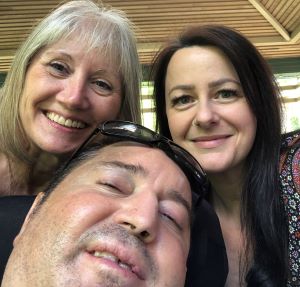 Mike Koutis befriended me on Facebook over 5 years ago. Somehow through the grapevine someone gave Mike my name. The rest is history.
Mike has a hard time sleeping and so do I. I would get an alert that I received a message on my phone anytime from midnight on and it would be Mike. We would chat for an hour or so. After a year or so Mike said he would like to have his friend message me if that was ok. He said "you will love her." That friend was Kristy Santangelo Mohr.
Soon after interacting with Kristy, Mike went into cardiac arrest and was unresponsive. Kristy notified me right away to tell me about Mike. He was in ICU for about 2 weeks. During those 2 weeks Kristy was Mike's patient advocate. She was so effective that now everyone that knows Mike knows Kristy. I started sending Mike a card every week after he got back to the nursing home and that has continued for over 4 years.
Kristy would call me on Messenger when she was visiting Mike and we got to communicate.
Soon after my daughter Heidi passed away Mike's brother Kerry passed away from ChAc. I asked Mike what his mothers name and address was because I wanted to send her a card. Soon after Mrs. Koutis received my card she called me. Our friendship started to build from there.
I kept telling Mike that someday I was coming to Canada to personally meet him. Then COVID came. In the summer of 2021 the border was reopened between the US and Canada. My only prerequisite was I had to come in the summer as I could not manage the frigid Canadian winter. My trip was planned to go to Winnipeg, Manitoba Canada on July 20th, 2022. When I landed in Winnipeg I thought to myself this is going to be odd not ever meeting Kristy. I was getting my luggage and turned around and there stood Kristy. She was everything I thought she would be and more.
Walking into Mike's nursing home room was a moment I will never ever forget. We both started crying and held onto each other tightly. While I was there Kristy asked me if there was anything in particular I would like to do after seeing Mike. I told her I wanted to meet her family, her mother and Mike's mother. I wanted to be sure to let her mother know what a terrific daughter she raised. Needless to say my goodbye was very very difficult.
Mike was everything I thought he would be and more. I hope to be able to go see Mike again. Mike and Kristy are now family. This was a vacation I will never ever forget.
Candi wasn't the only board member on the move. Check out our gallery below for more adventures in travel for patients and trustees.