NA News Issue 39 - 23rd June 2022
Neuroacanthocytosis information and research
Research Collaboration and Cooperation
News from Adrian Danek, Ruth Walker, and Gabriel Miltenberger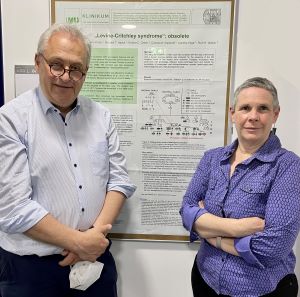 Ruth Walker reports on her recent trip to Munich:
On Wednesday May 4th I took a train from Prague (Czech Republic) to Munich (Germany). (In Prague I had been attending the 27th congress of the International Association of Parkinsonism and Related Disorders, and talking about various aspects of chorea. In addition to my talks I also presented a poster, put together by Dr. Danek, reporting that the mysterious family from New England originally described as having "neuroacanthocytosis" by Dr. Irvine Levine in the 1960s, actually turned out to have McLeod syndrome. This was my first in-person meeting, my first international travel, and my first plane flight, since the pandemic started. Very exciting, and a very rewarding meeting overall!)
In Munich, Adrian Danek and I met on several occasions over two days and discussed various issues. Very importantly, we were able to meet with Prof. Jochen Herms, head of the Neuropathology Institute, who has agreed to have brain tissues shipped to New York from people with chorea-acanthocytosis which were donated to Dr. Danek for research. In addition we met with his neuropathologist colleague, Dr. Otto Windl, who will facilitate the transfer. These tissues will become part of the group which is being analyzed by myself and colleagues at Mount Sinai in New York City. I also had the pleasure of meeting one of Dr. Danek's patients with ChAc, a young man who is doing remarkably well at present. Dr. Danek and I also spent a number of hours working together on a grant submission to fund research into neuroacanthocytosis syndromes.
In addition to this academic work, I was fortunate to have a few hours to enjoy wandering around Munich as a tourist, before (testing negative for COVID) flying home to NYC.
______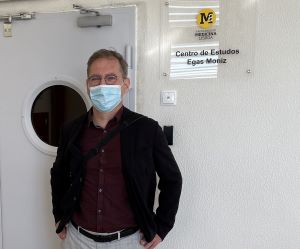 Adrian Danek writes of his cooperative efforts with Gabriel Miltenberger (photo to the right) in Lisbon, Portual:
With a year´s delay due to the pandemic, Adrian Danek was eventually able to make use of funds successfully applied for within a programme of the Ministry of Science and the Arts of Bavaria (https://www.bayfor.org/en/about-us/mission/initial-funding-programme-bayintan.html) to strengthen cooperations between scientists at Bavarian universities and international partners. From May 25 to 28 he met with Gabriel Miltenberger at his home university in Lisbon to discuss the future of genetic studies in chorea-acanthocytosis, in particular their curation of the VPS13A mutation database (https://databases.lovd.nl/shared/genes/VPS13A). Gabriel Miltenberger is affiliated with the Institute of Molecular Medicine, established in a modern building dedicated to Portuguese Nobel winner Egas Moniz. Adrian Danek gave two lectures. For the University Service of Neurology at Hospital de Santa Maria, the largest hospital in Portugal, he spoke about "VPS13A and XK bulk lipid transfer diseases" and discussed a case of the Portuguese colleagues. Within a dementia curriculum he reviewed the Munich history of neuroscience, particularly Alzheimer´s, research. With Gabriel Miltenberger, Adrian Danek had recently initiated the transfer of the chorein Western blot to the Rostock group but will continue the cooperation after retiring from his position at Munich university in 2023.
Photo below of Adrian Danek in Lisbon.