NA News Issue 40 - 21st November 2022
Neuroacanthocytosis information and research
Forums Feature the Latest Updates on Research
Summaries of Recent VPS13 Forums 8 and 9; Save the Date for Forum 10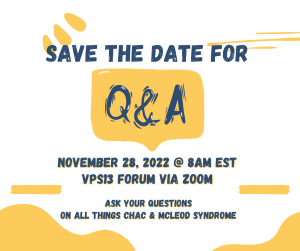 The VPS13 Forum continues its now storied tradition of exchanging ideas and new developments in the field of neuroacanthocytosis and all aspects of the VPS13 protein family. The format helps us to keep the global discussion going in the time between the in-person meetings of the neuroacanthocytosis community, the next of which will be held in Homburg, Germany September 15-17, 2023. We continued with Forums number 8 and 9 on July 25th and September 26th respectively, and the next Forum, our 10th, will be held on Monday, November 28th.
The upcoming 10th Forum will include a question and answer session. This is a unique opportunity for patients, family members, carers, and clinicians to get answers from the most knowledgeable people in the field. The forum's success is highly dependent on questions being submitted in advance, so that our panel of experts will be better able to respond. Please don't be shy. There are no dumb questions. On the contrary chances are others have been thinking about the same thing as you. By submitting questions you can help them as well as yourself.
Our panel of experts include Adrian Danek, Andreas Hermann, Ginger Irvine, Hans Jung, Gabriel Miltenberger-Miltenyi, Alzbeta Mühlbäck, Kevin Peikert, Ruth H Walker, Cornelius Werner, and Joy Willard-Williford.
We encourage patients, family members, and caregivers to submit medical questions prior to the meeting and to indicate if a translation from English into their mother tongue will be needed. Please submit your questions to: kevin.peikert@med.uni-rostock.de.
Additional topics included in this Forum will be
Dysphagia in rare movement disorders such as Huntington's disease
Cornelius Werner
University of Aachen and Johanniter-Krankenhaus Stendal, Germany
Why we should get rid of the term neuroacanthocytosis – or shouldn´t we?
Adrian Danek & Ruth Walker
Ludwig-Maximilians-Universität München, Germany & Mount Sinai School of Medicine, New York City, NY, USA
Details:
Monday, November 28th, 2022
from 2:00-4:00 pm CEST/UTC+1 (Central European Time)
from 8:00-10:00 am EDT/UTC-5 (Eastern Standard Time)
from 10:00-12:00 pm JST/UTC+9 (Japan Standard Time)
Zoom-link:
https://uni-rostock-de.zoom.us/j/62806527413?pwd=ZXk0TG5vQ1M5dDA4WEFYVk5xV2RVQT09

Meeting-ID: 628 0652 7413
Code: 676204
In case you are not receiving these invitations by mail yet, please contact kevin.peikert@med.uni-rostock.de and you will be added to the mailing list. Let's keep the conversation going!
---
At the 8th VPS13 forum held on July 25, Ruth Walker in New York shared news of the Neuropathology of Neuroacanthocytosis project at the Icahn School of Medicine, and also presented on Sleep Disorders in McLeod syndrome; Gabriel Miltenberger in Lisbon presented on Lipidomics of neuroacanthocytosis syndrome, and Adrian Danek in Munich shared his thoughts on the descriptor "Levine syndrome" as being obsolete.
Speakers at the 9th VPS13 forum in September included Tim P. Levine of University College London Institute of Ophthalmology and LesleyJ. Bruce of the Bristol Institute for Transfusion Sciences, National Health Service Blood and Transplant. Tim Levine spoke on the topic "an evolutionary perspective on Chorein/VPS13A: from membrane contacts to lipid transfer bridges and the repeating beta groove. , while Lesley Bruce shared updates on red cell membrane in health and disease.