NA News Issue 43 - 6th November 2023
Neuroacanthocytosis information and research
XK Patient Becomes "Exhibit A" at University Grand Rounds
Mark Williford and Ruth Walker Contribute to Better Understanding of XK Disease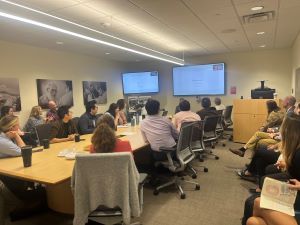 October 24 found XK patient
Mark Williford
and wife Joy at the University of Florida Health Norman Fixel Institute for Neurological diseases in Gainesville. Mark was exhibit A for Grand Rounds. This was a voluntary visit initiated by Joy and assisted by
Ruth Walker
. Joy reached out to Dr. Michael Okun, executive director of the Institute and University of Florida professor of Neurology and volunteered Mark. It is so important to educate young clinicians and researchers, as the prevalence of the McLeod syndrome is 1:10,000,000. Few students would ever get the opportunity to examine a patient themselves.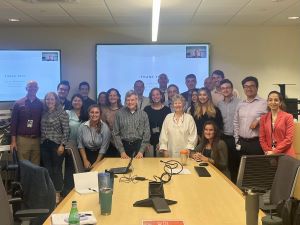 Dr. Ariane Carpentier
, a Canadian movement disorder fellow at the University of Florida, organized a splendid presentation and patient interview. Dr. Ruth Walker of the Bronx VA and Mount Sinai School of Medicine zoomed in to present on the neuroacanthocytosis diseases and McLeod syndrome specifically. Of special note was the showing of a video of Mark from 2009 (UF is where he was diagnosed). There were about 25 members of the faculty and movement disorder fellows present, as well as a geneticist, a speech therapist, and a physical therapist. Mark and Joy's daughter Katie and son-in-law Travis were present, too. Afterwards Mark enjoyed Ariane's pumpkin pie as he retired to the fellows' office for more Q&A and a new videoed neuro exam.