NA News Issue 39 - 23rd June 2022
Neuroacanthocytosis information and research
Research Update: Animal Models and Blood Cell Research
Summaries of Recent VPS13 Forums 6 and 7; Save the Date for Forum 8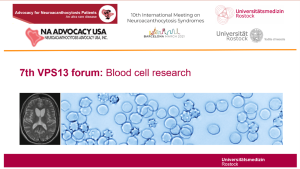 After five successful and well attended online meetings, the VPS13 Forum has become already a nice tradition for exchanging ideas and new developments in the field of neuroacanthocytosis and all aspects of the VPS13 protein family. The format helps us to keep the global discussion going in the time between the in-person meetings of the neuroacanthocytosis community, the last of which was held back in 2018 (!) in Dresden, Germany. We continued with the Forum number 6 and 7 on March, 28th and May, 30st.
Prof. Adrian Danek, the convenor of the 6th VPS13 Forum, invited Profs. Eric H. Baehrecke (University of Massachusetts), Ody Sibon (University of Groningen), and Lucia de Franceschi (University of Verona) to talk on disease insights from different animal models. They presented their data on consequences of VPS13D (Baehrecke) and VPS13A (Sibon) deficiency in a fruit fly model (Drosophila). These genes and corresponding proteins are related to ataxic conditions (VPS13D) and chorea-acanthocytosis (VPS13A). Prof. De Franceschi introduced new mouse models of chorea-acanthocytosis and preclinical studies on a compound called nilotinib in these mice.
The most recent 7th forum meeting in May focused on all aspects of blood cell research. The first speaker (Prof. Lars Kaestner, University of Saarland) gave a broad overview over different possible implications of blood cell research, such as for diagnosis, treatment (monitoring) and basic understanding of the diseases. Prof. Donatienne Tyteca (de Duve Institute, UCLouvain) presented her research data on acanthocytes with focus on membrane biophysical properties and lipid distribution in hypobetalipoproteinemia, a disease which used to be part of the neuroacanthocytosis syndrome family in the past and may help us to better understand disease mechanisms in other syndromes with acanthocytes. Felix Reichel (Max-Planck-Institut Erlangen) talked on blood cell mechanics in chorea-acanthocytosis, e.g., on the behavior of acanthocytes, but also other blood cells in the blood flow. He pointed out, that not only red, but also white blood cells show impaired cell mechanics in chorea-acanthocytosis.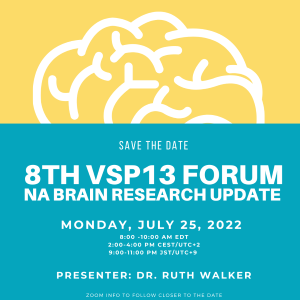 The 8th VPS13 forum will focus on new results of the neuropathology project of the Mount Sinai Brain Bank, New York. Prof. Ruth Walker will convene this next meeting on Monday, July 25th, prospectively
from 2:00 to 4:00 pm CEST/UTC+2 (Central European Summer Time)
from 8:00 to 10:00 am EDT/UTC-4 (Eastern Daylight Time)
from 9:00 to 11:00 pm JST/UTC+9 (Japan Standard Time).
The invitation to the meeting (including the respective zoom link) will follow. In case you are not receiving these invitations by mail yet, please contact kevin.peikert@med.uni-rostock.de and you will be added to the mailing list. Let's keep the conversation going!