NA News Issue 41 - 17th March 2023
Neuroacanthocytosis information and research
The NA Advocacy USA Welcomes a Second New Trustee
Additional Trustees Still Needed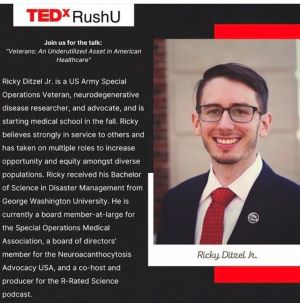 Hello everyone, my name is Ricky Ditzel Jr. and I am a research associate at Mount Sinai in New York City working alongside Dr. Ruth Walker on the Neuropathology of Neuroacanthocytosis project. Originally from Fort Lauderdale, Florida, I graduated from George Washington University in 2020 with a B.S.H.S. in Disaster Management and recently completed the Post Baccalaureate premedical certificate program at Columbia University. I joined the United States Army when I was 18 and served for eight years as a critical care flight paramedic until I was honorably discharged in 2020. I have always felt compelled toward neurology and neuroscience having an older brother who was diagnosed with cerebral palsy when he was 5 years old—Johnny is my best friend and a source of constant inspiration in my life. While my time researching VPS13A and XK Disease has been short, it has been deeply impactful on my life and I grow increasingly passionate about it daily. I am currently on track to matriculate into medical school in the Fall of 2023, but I would love to remain involved with the NA-USA and hope to continue finding ways to bring more awareness to the cause. I am humbled and grateful to be working with so many amazing people on these projects and to support the organization and the unparalleled work being done!
Editor's note: Ricky will be running in the TCS London Marathon in April, raising funds for the Michael Fox Foundation.
If you would like to learn more about the role of a trustee/board member with NA Advocacy, please contact Ginger Irvine at ginger@naadvocacy.org. For information on NA-USA, please contact Susan Wagner at susan@naadvocacyusa.org or Joy Willard-Williford at joy@naadvocacyusa.org.