NA News Issue 41 - 17th March 2023
Neuroacanthocytosis information and research
Super Fundraiser on Super Bowl Sunday
Patient Drew Smith raises over $3000 for research on Super Bowl Sunday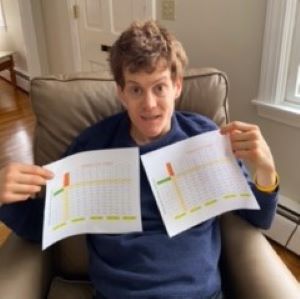 Using a grid system he designed himself, Drew Smith hosted a Super Bowl fundraiser for Neuroacanthocytosis Advocacy USA (NA-USA), raising a grand total of $3,125 for the Neuropathology of Neuroacanthocytosis brain research project at the Icahn School of Medicine at Mount Sinai in New York City. Drew sold 200 squares at $25 a piece with half the proceeds going to fund the winners and the other half going to NA-USA.
If you follow Drew on Facebook or even in the NA News, you will know that he is a lover of all things sports. Drew took his love of American professional football to a whole new level, using the Super Bowl as an opportunity to raise funds.
NA-USA is grateful to Drew for his passion and his commitment to finding a cure for neuroacanthocytosis diseases.