NA News Issue 37 - 28th November 2021
Neuroacanthocytosis information and research
In Memoriam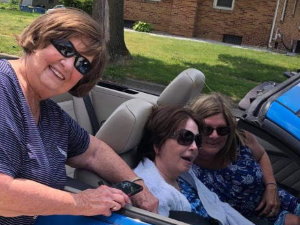 Kristi Ringo Curtis
Kristi Ringo Curtis passed away on June 19, 2021 at her home in Bremen, IN. She was born on August 13, 1959 in Linton, IN to Bill and Paula (Skomp) Ringo. She was a member of the Bremen United Methodist Church.
Kristi attended elementary school in Sullivan, IN, middle school at ISU Lab School in Terre Haute, and she graduated from Bremen High School in 1977. She attended Indiana State University where she met the love of her life, John R. Curtis. They were married February 9, 1980. John's love for Kristi was clearly visible through his devotion to her during their forty-one years of marriage. He was not only a devoted husband, he was her best friend and faithful caregiver.
Kristi worked at Target for thirteen years, both in Plainfield and Lafayette, IN. Later, she was a teaching assistant at the United Methodist Church Preschool in Bremen. She loved working with the small children until her disease prevented her from continuing her job.
Kristi loved living in Bremen. Her final request was to take a ride around Bremen. Just days before her death, arrangements were made for her to cruise the town in a convertible, driven by her sister, Kerry, and accompanied by her mother and her caregiver, Cyla. She was especially appreciative of the firemen who came to put her in and out of the car. It was a day of joy and excitement for her.
Kristi fought a long and brave battle for many years and she spent the last five years bedridden. Throughout these difficult years, she never lost her caring and compassion for others. Also, Kristi did not lose her sense of humor, her heartwarming smile, and her alert mind. She dearly loved her family and cherished visits and cards from family and friends.
Typical of Kristi's giving character, three years ago she began planning to donate her brain to science. Arrangements were made to transport her body to a medical facility where research of her rare disease, Chorea Acanthocytosis, will be conducted. Recently, the research center at Mt. Sinai in New York, asked for permission to also use tissue from several organs. Most important to Kristi was the hope that her donation would help others who have, or could have, this debilitating disease.
Survivors, in addition to her husband and parents, include her two children, Justin Curtis, Indianapolis, and Katie (Eric) Williams, Fishers. The greatest gift during Kristi's last five years, was the birth of her precious granddaughter, Audrey Marie Williams. Other survivors include her two loving sisters, Kim (Joe) Berretto, Hilton Head Island, SC and Kerry (Rex) Huff, Bremen. She also leaves behind two nieces, two nephews, and three special aunts. In addition to family members, she is survived by special friends: Cyla, Alex, Judy, Linda, Liz, Pastor Lynn, Ann, and the many wonderful people from Hospice.
--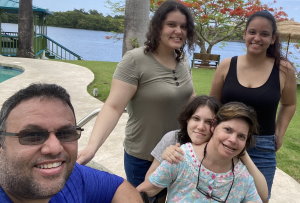 Elba Nidia Figueros Nieves
We received sad correspondence from our Puerto Rico friends.
Juan Carlos Santiago, husband of Elba Nidia Figueros Nieves said:
"I am writing to share that Nidia passed away on August 1, 2021, at the age of 56. Within the COVID pandemic, God gave us the opportunity to have with her and our three daughters a year where we could be more united than ever. I share a photo of my family, just two months before she passed away.
I will always be grateful to you and the support group of NA Advocacy. Please continue with the investigations and support, in our case it helped us a lot in our process of facing the disease. Thanks!."
--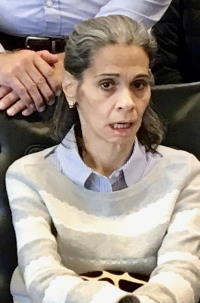 Vivian Rodriguez
Eliut Rodriguez Carrion wrote to us from Puerto Rico with sad news:
"On April 21, 2021 Vivian pass away after more than twenty years fighting with all effects of NA.
Vivian was a loving wife and a person of deep faith. Love and faith in Jehovah God and Jesus was the force that move her during all this years. Now Vivian is awaiting to hear the powerful voice of Jesus during the resurrection on earth, one of the pillars of true Christianity as read in John 5:28-29.
Also, the patriarch Job believed that Jehovah would set time to remember him as read in Job 14:13-15. Verse 13 was one of Vivian favorites "You will call, and I will answer you. You will long for the work of your hands"."
We remember Nidia and Vivian with Juan Carlos and Eliut from our time together at the symposium in Ann Arbor Michigan in 2016. Our heartfelt condolences to both families. See the group photo at the bottom of this page.