NA News Issue 32 - 16th May 2019
Neuroacanthocytosis information and research
RESEARCH UPDATE - Adrian Danek and Gabriel Miltenberger-Miltenyi , Munich | Sandra Muñoz Braceras, Madrid | Ruth Walker, New York | Teresa Zoladek, Warsaw

Adrian Danek and Gabriel Miltenberger-Miltenyi
University of Munich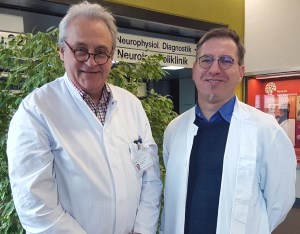 In Munich, Adrian Danek and Gabriel Miltenberger-Miltenyi began a new collaboration, funded by the generous donation of seed money by Betty and Carl Pforzheimer to the Advocacy, in honour and in memory of Glenn Irvine. The 12-month collaboration, which is meant to be continued with the help of further grants, will support worldwide NA patient care through the revitalization of the patient registry (http://www.euro-hd.net/html/na/registry) and the chorein blot diagnosis of ChAc for patients world-wide. Moreover, the genetic expertise of Dr. Miltenberger-Miltenyi will play an essential role in the molecular analyses of ChAc patient samples, to better understand the exact genetic background of an individual's disease and to offer novel information on the molecular pathways underlying clinical differences among ChAc patients. The results will be communicated in medical genetic reports to the clinicians that care for patients situated around the world. As this project, carried out at the University of Munich, reaches its successive milestones, reports will be submitted to scientific meetings and journals and will, of course, be available in future issues of NA News.
---
Sandra Muñoz Braceras
Biomedical Research Institute Alberto Sols, Madrid
"VPS13A is closely associated with mitochondria and is required for efficient lysosomal degradation" published in Disease Models and Mechanisms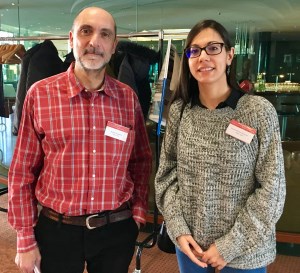 Sandra Munoz Bracas writes from Madrid after the completion of their research which the Advocacy supported, and which has been published in Disease Models and Mechanisms. Sandra was interviewed in the same journal about her work on the project: "I hope that our findings contribute to advance our understanding on the roles of this complex protein," she says in the interview, "and, especially, on the pathophysiology of chorea-acanthocytosis and the cellular pathways that might be interesting to consider as targets for potential therapeutic strategies. I would like to thank you again for the support provided, which made possible that I could continue working on the completion of the now published research."
Abstract: Members of the VPS13 family are associated with various human diseases. In particular, the loss of function of VPS13A leads to chorea-acanthocytosis (ChAc), a rare neurodegenerative disease without available curative treatments. Autophagy has been considered a promising therapeutic target because the absence of VPS13A causes a defective autophagy flux. However, the mechanistic details of this deficiency are unknown. Here, we identified Rab7A as an interactor of one of the VPS13 family members in Dictyostelium discoideum and showed that this interaction is conserved between the human homologs VPS13A and RAB7A in HeLa cells. As RAB7A is a key player in endosome trafficking, we addressed the possible function of VPS13A in endosome dynamics and lysosome degradation. Our results suggest that the decrease in autophagy observed in the absence of VPS13A may be the result of a more general defect in endocytic trafficking and lysosomal degradation. Unexpectedly, we found that VPS13A is closely localized to mitochondria, suggesting that the role of VPS13A in the endolysosomal pathway might be related to inter-organelle communication. We show that VPS13A localizes at the interface between mitochondria-endosomes and mitochondria-endoplasmic reticulum and that the presence of membrane contact sites is altered in the absence of VPS13A. Based on these findings, we propose that therapeutic strategies aimed at modulating the endolysosomal pathway could be beneficial in the treatment of ChAc.She reported that it was accepted for publication; you will find the final version in the scientific journal Disease Models and Mechanisms with the title "VPS13A is closely associated with mitochondria and is required for efficient lysosomal degradation". The Link: http://dmm.biologists.org/content/12/2/dmm036681
PHOTO: Ricardo Escalante and Sandra Munoz Braceras.
See the full text of the article here.
---
Ruth Walker
Department of Neurology, James J. Peters Veterans Affairs Medical Center, Bronx, NY, USA and Department of Neurology, Mount Sinai School of Medicine, New York City, NY, USA.
"McLeod syndrome: Five new pedigrees with novel mutations" published in Parkinsonism and Related Disorders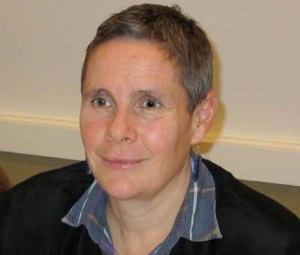 Dr. Ruth Walker is one of the authors of "McLeod syndrome: Five new pedigrees with novel mutations," published in Parkinsonism and Related Disorders. The lead co-authors are J Weaver and and H Sarva of the Department of Neurology, New York Presbyterian-Weill Cornell Medical Center, with other authors from the University of Minnesota, Veterans Affairs Medical Center, Oregon Health & Science University, Baylor College of Medicine, The Ohio State University Wexner Medical Center, and the New York Blood Center.
Abstract: The objective of the article is to present five new McLeod Syndrome (MLS) pedigrees with novel XK gene mutations, review the literature of this disorder, and discuss the typical and atypical clinical features noted with these new mutations. This is a multi-center retrospective review of five MLS cases with novel gene mutations. Genotypic and phenotypic information has been obtained from each center. Five novel mutations were discovered in this case series. New clinical findings include prolonged asymptomatic elevated creatine kinase (CK) levels, vocal tics, presence of obstructive sleep apnea, and one patient of Vietnamese ethnicity. The authors expand on the clinical and genetic spectrum of MLS demonstrating the clinical variability of MLS with the various new mutations depending on different types of mutation.
See the full text of the article
---
Teresa Zoladek
Polish Academy of Sciences, Warsaw
"Yeast-model-based study identified myosin- and calcium-dependent calmodulin signalling as a potential target for drug intervention in chorea-acanthocytosis" Published in Disease Models & Mechanisms 2019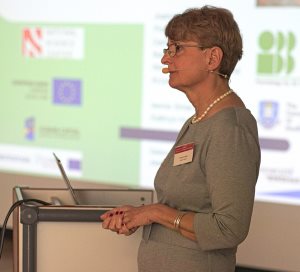 Chorea-acanthocytosis (ChAc) is a rare neurodegenerative disease associated with mutations in the human VPS13A gene. The mechanism of ChAc pathogenesis is unclear. A simple yeast model was used to investigate the function of the single yeast VSP13 orthologue, Vps13. Vps13, like human VPS13A, is involved in vesicular protein transport, actin cytoskeleton organisation and phospholipid metabolism. A newly identified phenotype of the vps13Δ mutant, sodium dodecyl sulphate (SDS) hypersensitivity, was used to screen a yeast genomic library for multicopy suppressors. A fragment of the MYO3 gene, encoding Myo3-N (the N-terminal part of myosin, a protein involved in the actin cytoskeleton and in endocytosis), was isolated. Myo3-N protein contains a motor head domain and a linker. The linker contains IQ motifs that mediate the binding of calmodulin, a negative regulator of myosin function. Amino acid substitutions that disrupt the interaction of Myo3-N with calmodulin resulted in the loss of vps13Δ suppression. Production of Myo3-N downregulated the activity of calcineurin, a protein phosphatase regulated by calmodulin, and alleviated some defects in early endocytosis events. Importantly, ethylene glycol tetraacetic acid (EGTA), which sequesters calcium and thus downregulates calmodulin and calcineurin, was a potent suppressor of vps13Δ. We propose that Myo3-N acts by sequestering calmodulin, downregulating calcineurin and increasing activity of Myo3, which is involved in endocytosis and, together with Osh2/3 proteins, functions in endoplasmic reticulum-plasma membrane contact sites. These results show that defects associated with vps13Δ could be overcome, and point to a functional connection between Vps13 and calcium signalling as a possible target for chemical intervention in ChAc. Yeast ChAc models may uncover the underlying pathological mechanisms, and may also serve as a platform for drug testing.
See the full text of the article here.
Link to interview with First Author Piotr Soczewka