NA News Issue 31 - 26th Nov 2018
Neuroacanthocytosis information and research
PATIENT NEWS - Kristi Curtis | Alex Irvine

Kristi Curtis
Kristi Curtis from Indiana wrote to us in the summer:
"Thank you for remembering my birthday. I had a really nice day. Update on me: I am almost totally bed-ridden, except for getting up on my bedside commode, and my wheelchair. I have no use of my legs. John lifts me back and forth. He is my rock. He has stuck with me for the past 13 years. I have an amazing caregiver, Alice. She has me on an exercise program. I use 1-lb weights on each hand. I have 6 arm exercises that I do daily. I have 5 leg exercises that I do daily. They have really given me more confidence in myself.
"My speech comes and goes. There are some days that I can talk, but then there are others that I have to use my letter board. Some days my tongue wants to protrude out, and I drool more sometimes. I have no use of my left hand. It's in a claw position. I can grip things with my right hand. My left arm will extend only a little ways out. My right foot turns out to the right. I have gotten glasses to help me with my double vision. I have developed arthritis in my left side of my neck and shoulder. That probably just comes with age.
"We have a beautiful granddaughter, Audrey. She is the highlight of my life. She is 27 months old. They live in Indy so we don't get to see them as much as we would like to. When she comes in the door and says "Hi grandma, and I love you, too", and gives me hugs and kisses, my heart melts. She makes life worth living for. How lucky I am to have two super kids, a great son-in-law, and the most precious granddaughter ever."
Alex Irvine
An update from Alex in London: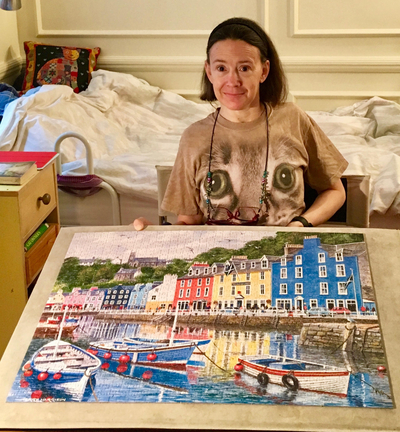 "I'm doing ok; have still got my cat Coco to keep me company and to perk me up when I am feeling down. We've all settled in quite nicely to our new ground floor apartment with no more stairs to go up and down. And a garden for me and my mom (and my cat of course ) to enjoy.

"The whole of the family including my sister Jen, her husband Dietrich, Kobi (20) and Ella (16) plus my dad's brother John had a very tiring (12 hours door to door) yet enjoyable 4 day trip to Iona and Staffa, both part of the Inner Hebrides in Scotland; we saw the unique puffins on Staffa and partially entered one of the caves where Mendelssohn was inspired to write an Overture. We scattered most of my dad's ashes in the Sound of Iona and my brother-in-law cleverly made a little paper sail boat in which he set off the remainder. It was quite a moving moment.
"I really enjoy doing the jigsaw puzzles that are given to me, mostly of cats, still utilising the blue tac at the end of a pencil technique. And I still have an artist who comes every three weeks to inspire me into doing more painting. I also like going to the movies, sometimes twice a week.
"Mom, my sister Jen and I attended The Dresden Conference in March. It brought together the science group of consultants and researchers with some patients and families. We enjoyed meeting everyone and participating in the
medical panel and music sessions; we heard discussion about future collaboration pointing to new projects which will lead to more research into the "bad" gene and find answers with DNA testing.
"Finally a big THANK YOU TO EVERYONE for their continued support of the Advocacy!"