NA News Issue 39 - 23rd June 2022
Neuroacanthocytosis information and research
Patients Out and About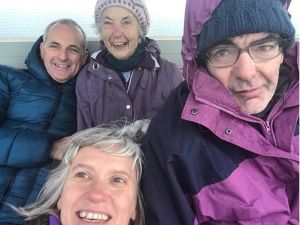 Keith Clark, brother of patient Pete has written to send a photo taken whilst walking down Southend pier (the longest commercial pier in the world) on Boxing Day 2019:
"The weather was dreadful, torrential rain but as you can see we had a smashing time and mum made it being a sprightly 91 at the time. The day was rounded off with lashings of hot chocolate and scones."
From the right in the photo: Pete Clark, his mother, his brother Keith and Keith's partner Pauline.
More recently, Pete wrote to say because of lockdown the activities of the Southend Huntington's Disease Group were curtailed but the allotment activities have been reinstated and it was "something l really missed, but thankfully it reopened two months ago and l've been busy planting lettuces, painting the sides of the raised beds with wood preservative and of course weeding! lt's really great to be back there and the weather has been very good too. I will go on a canal trip with the group and spend time with my brother and his partner, visiting a carnival and in September we have booked a wheelchair friendly apartment in the Lake District. Keith and Pauline have been marvellous in the support they have given me since mum died - l don't know what l would have done without them."
---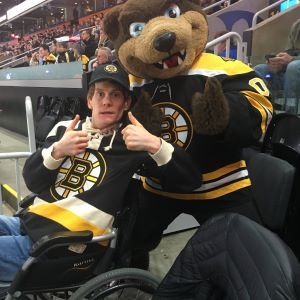 Sports fan Drew Smith of Lexington, Massachusetts loves to share photos of his many outings and activities via Facebook. While VPS13A limits his full participation in sports, this lover of all things Lacrosse enjoys attending varying sports games with his friends. Check out Drew enjoying a Boston Bruins professional hockey game. Enjoy more photos of Drew in the gallery below. He loves to be outside.