NA News Issue 35 - 20th November 2020
Neuroacanthocytosis information and research
PATIENT NEWS: Mark Wagner ¦ Mike Koutis ¦ Alex Irvine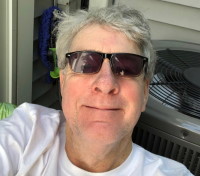 Mark Wagner, sister of Susan who is a McLeod patient has been a 30 year resident of New York City, a diehard Yankee baseball fan and now resides in CT. He is a retired civil engineer, working in construction management for international engineering companies. His work projects ranged from constructing medical laboratories, schools, subway tunnels, and his very last project, the 40-story skyscraper at 11 Times Square, NYC. Mark is an avid world traveler; his favorite places visited are Alaska, Africa, Asia and Sicily. Presently, he is researching and planning 2021 trips depending on COVID-19 status. During these lockdown days Mark returned to his hippie days of growing his hair for 6 months and worked on many ambitious puzzles. Recently he changed his look- thank you Mark!
--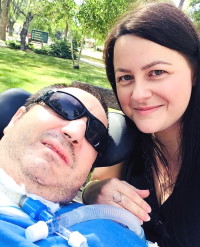 We hear from our correspondent Candi DiMarzio who is a friend of our patient Mike Koutis in Calgary Canada: Everyone has an angel in heaven but there are also angels on earth. Kristy Santangelo Mohr is one angel. She is Mike Koutis' best friend. Kristy runs her own business, has a husband and 2 children but still finds the time to visit Mike 6 days a week for 2-3 hours a visit.

Because of Covid Kristy wasn't allowed to visit. Mike kept sending her messages and she could tell he was getting lonely and bored. After writing a letter to Mike's Social Worker he deemed it necessary for Kristy to visit. It started out as one day a week and then increased to two. She now is back to her 6 days of visiting. In her spare time Kristy also took classes on how to work Mike's medical equipment so she could take him outside to enjoy the nice weather.
Everyone needs an Angel like Kristy!
--
Claire Huxtable has interviewed Alex Irvine about her cat for us: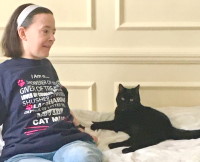 Alex has had Coco for 10 years. She was 15 months old when she got her. She came from a lady who collects stray cats and takes them to the vet to chip them. Coco is black and has a beautiful face with piercing yellow eyes. She makes Alex smile and she keeps her happy. Coco always stays by Alex's side. She likes to sleep on her bed in the day and at night.

She comes into her room to keep her company and to bring gifts of mice (made of cloth). Coco is a lovely companion for Alex.

She likes to lick Alex's arm and she puts her claws into her skin on her arm sometimes, but not so it hurts.

She likes to go into the communal garden using the cat flap. No one else can get close to Coco, only Alex.