NA News Issue 38 - 28th February 2022
Neuroacanthocytosis information and research
RESEARCH UPDATE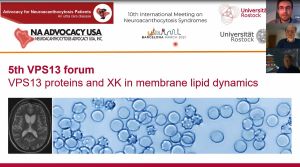 Success of the Forum Format to Keep the VPS13 and XK Conversation Going, Dr. Adrian Danek
As the whole world has switched to virtual communication during the pandemic, so have we - starting with a sort of family gathering, the NA Christmas party, on December 7, 2020. The follow-up patient question and answer session on January 18, 2021, but even more so, the 10th International Neuroacanthocytosis Symposium organized by our colleagues in Barcelona, have convincingly demonstrated the use of the once exotic formats.
Up to now, we have organized five sessions of the "VPS13 forum" that aims to keep the global discussion going in these still taxing current times, starting on May 3, 2021 with the topic of the "WIPI4/WDR45/atg2a molecular complex" which shares manifold aspects of the VPS13 molecule complexes and could not be fully covered at the Barcelona meeting. Prof. Proikas-Cezanne from Tübingen, Germany, spoke about basic molecular mechanisms, while Dr. Iankova from Munich, Germany covered the clinical aspects (BPAN/SENDA).
The most recent forum meeting on January 31, 2022, focused on the interplay of VPS13 proteins and XK in membrane lipid dynamics. Three international speakers (Profs. Pietro De Camilli, Yale; Aaron M Neiman, Stony Brook and Shigekazu Nagata, Osaka University) presented novel and often as yet unpublished data to a large international audience and Kevin Peikert, Rostock, convenor of the event, skillfully led the discussion. Basically, our previous assumption is now proven that the similarity between chorea-acanthocytosis and McLeod syndrome is based on the physical interaction of the two molecules VPS13A and XK. Some details have since been published (see e.g. doi:10.1073/pnas.2119286119 and doi:10.1038/s41594-021-00665-8), but others are as yet confidential and must be explored further. Adrian Danek and Kevin Peikert are to publish a summary of the three talks in the journal "Contact" once all presenters agree.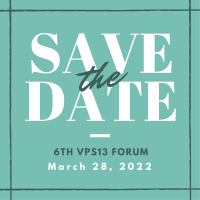 The 6th VPS13 forum will focus on "VPS13 disease insight from animal models" with the help of three speakers that will report on their findings with VPS13A and VPS13D in flies (Drosophila) and in mice, respectively. Profs. Baehrecke (University of Massachusetts), Sibon (University of Groningen), and de Franceschi (University of Verona) will present at a Zoom conference on March 28, 2022 from 7 to 9pm Central European Time.
ZOOM LOGIN
Meeting-ID: 924 7225 7380, Code: 982086