NA News Issue 41 - 17th March 2023
Neuroacanthocytosis information and research
First Winner of Glenn Irvine Prize Shares Insights
Jae-Sook Park in Her Own Words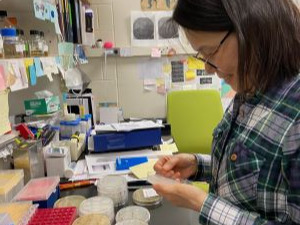 Doing research, especially in basic science fields which seem to be far away from answering immediate questions for human health, can be like passing through a long tunnel alone. I didn't mind that my research wasn't directly involved in human health or disease because my research always fulfilled my own interests. However, receiving the first Glenn Irvine prize woke me up. I realized my VPS13 research is actually involved in understanding the nature and cause of the rare diseases; VPS13 disease and McLeod Syndrome. I have started asking how my research could be utilized for easing the symptoms of patients, although I understand it won't happen overnight.
VPS13 research has progressed rapidly. We now know that VPS13 proteins are long conduit-shaped lipid transporters that functions membrane contact sites and that VPS13A protein interacts with a scramblase XK in order to mediate lipid transfer. However, the mechanism by which lipid transport by VPS13 is controlled is still unclear. Therefore, my ongoing VPS13 research is focused on the question of the regulation of VPS13 protein activity.
I greatly appreciate support of the Advocacy. The best way I can respond to your support is that to continue to investigate and understand the nature of VPS13 in hope that what we learn can be applied to the development of methods to improve the quality of patients' lives.