NA News Issue 39 - 23rd June 2022
Neuroacanthocytosis information and research
TOP STORY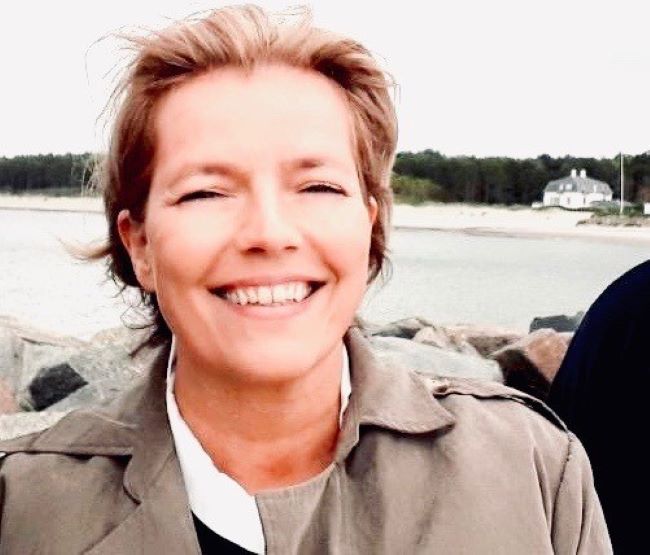 Thank you for reading this 39th edition of NA News. We are pleased to share the exciting news that The Advocacy for NA Patients has successfully hired a Charity Manager, Mette Jolly. Click below to read more about her, as well as research updates, some exciting collaborations in the research arena, news of recent past and future VPS13 forums and other upcoming webinars. You can also catch up on patients around the world and more. Read on...
--
Welcome aboard to Charity Manager Mette Jolly who joins us in our quest to widen the knowledge and research into the NA diseases.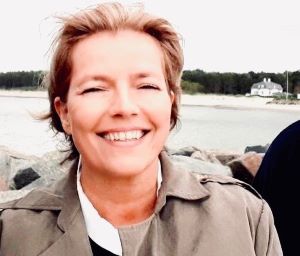 Mette will work with Ginger Irvine to expand the network, liaise closely with the Neuroacanthocytosis Advocacy USA and broaden communication between patients, families, friends, doctors, scientists and the general public.
Mette's background is in higher education, administration and translation services. Born in Denmark, she was educated at Copenhagen University and at the University of Nottingham where she gained her Ph.D. in political science. Mette lives in London where she co-founded and manages a writers' website which provides new authors an opportunity to share their work - during lockdown it grew to be read in over 100 countries. Previously, Mette worked in academia, where she particularly enjoyed meeting and communicating with students and colleagues from around the world.
Mette is looking forward to taking up her new position at the Advocacy for Neuroacanthocytosis Patients and to working with the organisation's partners and patients.


Save the Date - Upcoming 11th International Meeting on Neuroacanthocytosis Syndromes

Grab your calendars! You won't want to miss the 11th International Meeting on Neuroacanthocytosis Syndromes in Homburg, Germany, September 15-17, 2023, organized and chaired by Lars Kaestner of the Saarland University.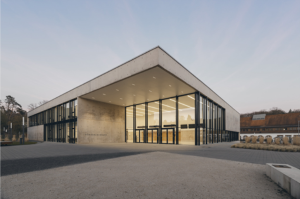 As an international community of clinicians, scientists, and families dealing with chorea-acanthocytosis (VPS13A disease) or McLeod syndrome (XK disease), respectively, we had enjoyed the virtual "Barcelona" symposium in 2021.
But now, it is urgently time to meet again in person! To continue our conversation at "on-site" meetings, the last of which was held in Dresden, Germany more than four years (!) ago, we are pleased to announce that we are currently planning the 11th International Meeting on Neuroacanthocytosis Syndromes as an in-person meeting at the Saarland University in Homburg, Germany, September 15 - 17, 2023.
The symposium will be organized and chaired by Prof. Lars Kaestner. More details will follow soon.
The Advocacy Welcomes New Trustee
Additional Trustees Still Needed

The Advocacy is pleased to welcome Nicola Keat to our Board of Trustees. Her background and practical knowledge will make a positive and useful addition to our efforts to widen the scope of understanding about this rare disease as well as to add expertise with her substantial experience in a medical research environment over the next few years.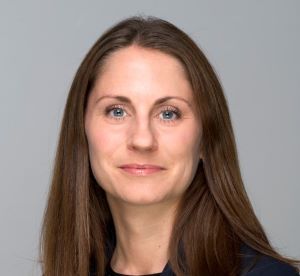 Nicola Keat completed her early education in Billericay. After completing a degree in Biological Sciences (with a placement year working at Novartis), Nicola moved into the research funding arena, working in the Clinical Trials Team at Cancer Research UK. Nicola joined the National Cancer Research Institute (NCRI) as Head of Research Groups in April 2015, providing leadership and strategic input into the activities of the NCRI's Groups, ensuring a collaborative approach to clinical research endeavours. Her team is responsible for the delivery of all activities of the NCRI Groups, currently including the NCRI Groups, Clinical and Translational Radiotherapy Research (CTRad) Working Group and the Cancer Clinical Trials Unit (CTU) Group. Nicola is also responsible for oversight of all patient involvement in NCRI activities via the NCRI Consumer Forum and for the NCRI's Early Career Researcher Forum. In 2017, Nicola completed a Masters of Business Administration with the Open University.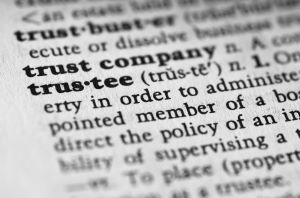 While welcoming Ms. Keat, both The Advocacy for NA Patients and Neuroacanthocytosis Advocacy USA continue to cast the net for additional trustees. These important individuals work together to accomplish the goals of their respective organizations. Both NA Advocacy, based in London, and NA-USA based in Florida, are looking for a few good individuals with a heart for finding a cure for VPS13A and McLeod syndrome and for supporting individuals with these disorders, and their families.
At its most basic, to truly be an effective nonprofit trustee or board member requires having good character, a strong commitment to the cause, the gift of time, and a willingness to use personal and professional resources to advance the organization's mission. If you would like to learn more about the role of a trustee/board member with NA Advocacy, please contact Ginger Irvine at ginger@naadvocacy.org. For information on NA-USA, please contact Susan Wagner at susan@naadvocacyusa.org or Joy Willard-Williford at joy@naadvocacyusa.org.


Research Update: Animal Models and Blood Cell Research
Summaries of Recent VPS13 Forums 6 and 7; Save the Date for Forum 8

From Rostock, Germany, Kevin Peikert provides an update on recent VPS13 Zoom Forums.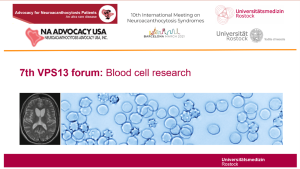 After five successful and well attended online meetings, the VPS13 Forum has become already a nice tradition for exchanging ideas and new developments in the field of neuroacanthocytosis and all aspects of the VPS13 protein family. The format helps us to keep the global discussion going in the time between the in-person meetings of the neuroacanthocytosis community, the last of which was held back in 2018 (!) in Dresden, Germany. We continued with the Forum number 6 and 7 on March, 28th and May, 30st.
Prof. Adrian Danek, the convenor of the 6th VPS13 Forum, invited Profs. Eric H. Baehrecke (University of Massachusetts), Ody Sibon (University of Groningen), and Lucia de Franceschi (University of Verona) to talk on disease insights from different animal models. They presented their data on consequences of VPS13D (Baehrecke) and VPS13A (Sibon) deficiency in a fruit fly model (Drosophila). These genes and corresponding proteins are related to ataxic conditions (VPS13D) and chorea-acanthocytosis (VPS13A). Prof. De Franceschi introduced new mouse models of chorea-acanthocytosis and preclinical studies on a compound called nilotinib in these mice.
The most recent 7th forum meeting in May focused on all aspects of blood cell research. The first speaker (Prof. Lars Kaestner, University of Saarland) gave a broad overview over different possible implications of blood cell research, such as for diagnosis, treatment (monitoring) and basic understanding of the diseases. Prof. Donatienne Tyteca (de Duve Institute, UCLouvain) presented her research data on acanthocytes with focus on membrane biophysical properties and lipid distribution in hypobetalipoproteinemia, a disease which used to be part of the neuroacanthocytosis syndrome family in the past and may help us to better understand disease mechanisms in other syndromes with acanthocytes. Felix Reichel (Max-Planck-Institut Erlangen) talked on blood cell mechanics in chorea-acanthocytosis, e.g., on the behavior of acanthocytes, but also other blood cells in the blood flow. He pointed out, that not only red, but also white blood cells show impaired cell mechanics in chorea-acanthocytosis.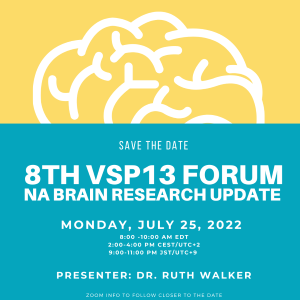 The 8th VPS13 forum will focus on new results of the neuropathology project of the Mount Sinai Brain Bank, New York. Prof. Ruth Walker will convene this next meeting on Monday, July 25th, prospectively
from 2:00 to 4:00 pm CEST/UTC+2 (Central European Summer Time)
from 8:00 to 10:00 am EDT/UTC-4 (Eastern Daylight Time)
from 9:00 to 11:00 pm JST/UTC+9 (Japan Standard Time).
The invitation to the meeting (including the respective zoom link) will follow. In case you are not receiving these invitations by mail yet, please contact kevin.peikert@med.uni-rostock.de and you will be added to the mailing list. Let's keep the conversation going!


Research Collaboration and Cooperation
News from Adrian Danek, Ruth Walker, and Gabriel Miltenberger

Ruth Walker shares news of her recent trip to Munich, Germany to further research collaborations and grant submissions with Adrian Danek and other researchers and clinicians, while Adrian Danek shares recent cooperative research efforts with Gabriel Miltenberger.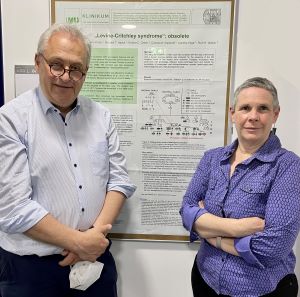 Ruth Walker reports on her recent trip to Munich:
On Wednesday May 4th I took a train from Prague (Czech Republic) to Munich (Germany). (In Prague I had been attending the 27th congress of the International Association of Parkinsonism and Related Disorders, and talking about various aspects of chorea. In addition to my talks I also presented a poster, put together by Dr. Danek, reporting that the mysterious family from New England originally described as having "neuroacanthocytosis" by Dr. Irvine Levine in the 1960s, actually turned out to have McLeod syndrome. This was my first in-person meeting, my first international travel, and my first plane flight, since the pandemic started. Very exciting, and a very rewarding meeting overall!)
In Munich, Adrian Danek and I met on several occasions over two days and discussed various issues. Very importantly, we were able to meet with Prof. Jochen Herms, head of the Neuropathology Institute, who has agreed to have brain tissues shipped to New York from people with chorea-acanthocytosis which were donated to Dr. Danek for research. In addition we met with his neuropathologist colleague, Dr. Otto Windl, who will facilitate the transfer. These tissues will become part of the group which is being analyzed by myself and colleagues at Mount Sinai in New York City. I also had the pleasure of meeting one of Dr. Danek's patients with ChAc, a young man who is doing remarkably well at present. Dr. Danek and I also spent a number of hours working together on a grant submission to fund research into neuroacanthocytosis syndromes.
In addition to this academic work, I was fortunate to have a few hours to enjoy wandering around Munich as a tourist, before (testing negative for COVID) flying home to NYC.
______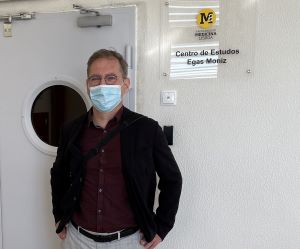 Adrian Danek writes of his cooperative efforts with Gabriel Miltenberger (photo to the right) in Lisbon, Portual:
With a year´s delay due to the pandemic, Adrian Danek was eventually able to make use of funds successfully applied for within a programme of the Ministry of Science and the Arts of Bavaria (https://www.bayfor.org/en/about-us/mission/initial-funding-programme-bayintan.html) to strengthen cooperations between scientists at Bavarian universities and international partners. From May 25 to 28 he met with Gabriel Miltenberger at his home university in Lisbon to discuss the future of genetic studies in chorea-acanthocytosis, in particular their curation of the VPS13A mutation database (https://databases.lovd.nl/shared/genes/VPS13A). Gabriel Miltenberger is affiliated with the Institute of Molecular Medicine, established in a modern building dedicated to Portuguese Nobel winner Egas Moniz. Adrian Danek gave two lectures. For the University Service of Neurology at Hospital de Santa Maria, the largest hospital in Portugal, he spoke about "VPS13A and XK bulk lipid transfer diseases" and discussed a case of the Portuguese colleagues. Within a dementia curriculum he reviewed the Munich history of neuroscience, particularly Alzheimer´s, research. With Gabriel Miltenberger, Adrian Danek had recently initiated the transfer of the chorein Western blot to the Rostock group but will continue the cooperation after retiring from his position at Munich university in 2023.
Photo below of Adrian Danek in Lisbon.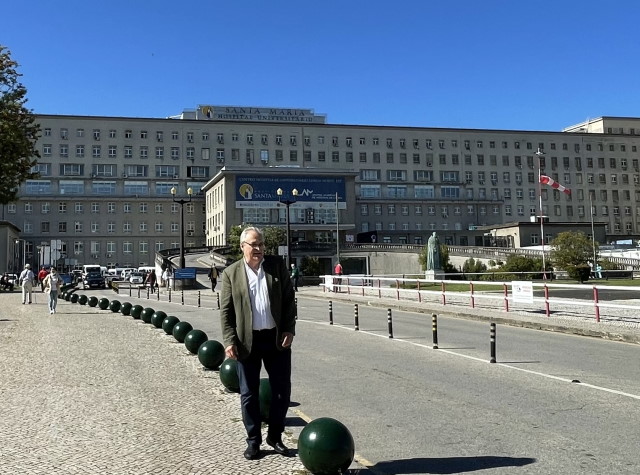 Adrian Danek to Present on NA Syndromes
Adrian Danek will present an educational webinar on NA diseases on October 25, 2022. Registration required.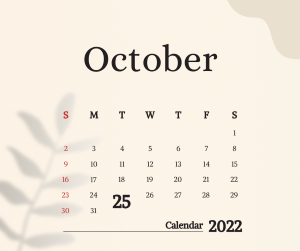 Webinar Information:
Title: 'VPS13A and XK bulk lipid transfer diseases (formerly the now obsolete Levine-Critchley syndrome)'​ by Adrian Danek
Description: Educational webinars on rare neurologicial, neuromuscular and movement disorders jointly organized by the European Reference Networks for Rare Neurological Diseases (ERN-RND) and Neuromuscular Diseases (ERN-EuroNMD) and the European Academy of Neurology (EAN). The speaker is Professor for Coginitive Neurology at the Ludwig-Maximilan University München, Germany. His research is focused on cognitive neurology, functional neuroanatomy, dementia, neuroacanthocytosis.
NA USA says Thank You!

Susan Wagner, a McLeod syndrome-carrier and president of Neuroacanthocytosis USA, Inc., shares this heartfelt message.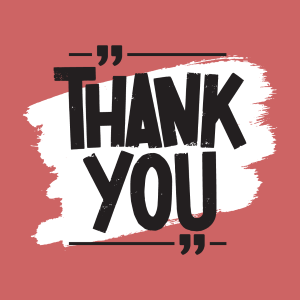 We at NA-USA would like to acknowledge our donors.
We are grateful for the generous donations being made by our faithful, and new donors. These donations come in many forms… personal donations, yearly and monthly donations, in memory of a person, in honor of a patient, in honor of a caregiver, and grants.
These donations have allowed us to extend our funding of the NA-USA research project at the Icahn School of Medicine at Mount Sinai in New York City, through Sept 2022.
We are intrigued with the new discovery of large inclusions of unknown composition, found in abnormally enlarged neurons (brain cells) of NA patients. We look forward to learning more about these inclusions as the project progresses.
To our donors, thank you for your ongoing support.
Sports News Website Features ChAc Patient Rodion Wouters

Rodion Wouters, from Brake, Germany, has a passion for refereeing youth football, aka soccer in the US. Recently a web-based news site did a story on how his VPS13A, what we used to call ChAc, is effecting his life as a referee. Rodion gave us permission to share the article, titled "When Health No Longer Cooperates."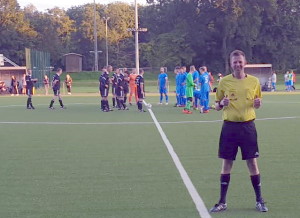 Rodion Wouters loved being a referee - rare disease makes life difficult for him...
Rodion Wouters is 26 years young and has been involved as a referee in Wesermarsch. Whistling for SG Schwei/Seefeld/Rönnelmoor since 2010, many only know him as "the Dutchman". "If there was a way, I'd love to stay a referee," he says. Unfortunately, a very rare disease called"Chorea Acanthocytosis" is progressing inexorably and makes it hard for him to stay in his beloved position on the field.
It is estimated that only 1,000 people worldwide are affected by the disease. Beginning in early adulthood the first signs of the disease are often cognitive and psychiatric symptoms. "That's why I stand out on the field with my striking movements and a striking running style," says Rodion Wouters.
The treatments are aimed solely at the symptoms, the disease progresses relentlessly in those affected. "That makes whistling very difficult for me," says the 26-year-old, who lives in Brake. Concentration problems do not make it any easier for him either.
His passion for refereeing at youth matches began in 2010. At a certain point, men's competitions followed and Rodion Wouters was often on the road as an assistant. "I kept all the game note cards," he says.
Wouters turned to Sportgasm with his challenging story to encourage others to show up despite illness. Already, his movements had people asking him if he would whistle drunk, which, of course, he wouldn't. "I've always believed that you shouldn't let yourself be told you can't do something if you really want to." he explains.
His will is still there, but now the disease has progressed to the point that a return to the field is unlikely. In any case, our team wishes Rodion all the best!
Note: This article appeared online in German on April 9, 2022. Here is the link should you want to read the article in its original language: When Health No Longer Cooperates .
[NA News editor's note: Estimated prevalence of the disease is 1:1,000,000 and initial symptoms vary among patients.]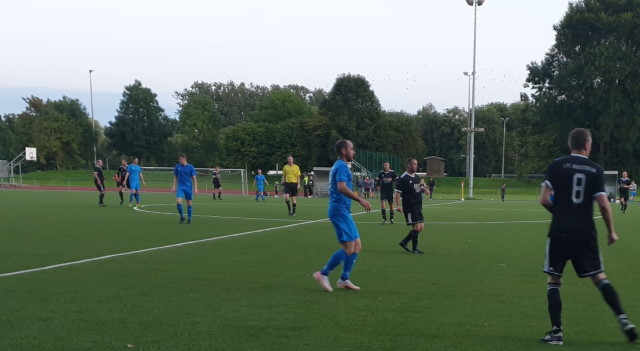 Patients Out and About

Enjoy these photos of patients Peter Clark (right) and Drew Smith out and about.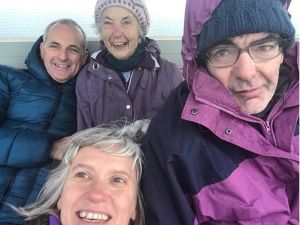 Keith Clark, brother of patient Pete has written to send a photo taken whilst walking down Southend pier (the longest commercial pier in the world) on Boxing Day 2019:
"The weather was dreadful, torrential rain but as you can see we had a smashing time and mum made it being a sprightly 91 at the time. The day was rounded off with lashings of hot chocolate and scones."
From the right in the photo: Pete Clark, his mother, his brother Keith and Keith's partner Pauline.
More recently, Pete wrote to say because of lockdown the activities of the Southend Huntington's Disease Group were curtailed but the allotment activities have been reinstated and it was "something l really missed, but thankfully it reopened two months ago and l've been busy planting lettuces, painting the sides of the raised beds with wood preservative and of course weeding! lt's really great to be back there and the weather has been very good too. I will go on a canal trip with the group and spend time with my brother and his partner, visiting a carnival and in September we have booked a wheelchair friendly apartment in the Lake District. Keith and Pauline have been marvellous in the support they have given me since mum died - l don't know what l would have done without them."
---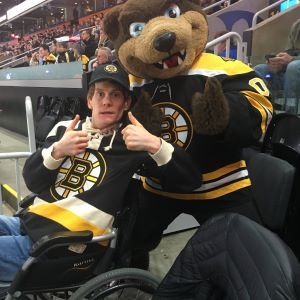 Sports fan Drew Smith of Lexington, Massachusetts loves to share photos of his many outings and activities via Facebook. While VPS13A limits his full participation in sports, this lover of all things Lacrosse enjoys attending varying sports games with his friends. Check out Drew enjoying a Boston Bruins professional hockey game. Enjoy more photos of Drew in the gallery below. He loves to be outside.


Carers Corner

Joy Willard-Williford shares news of a support group she found with Advent Health.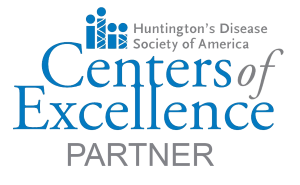 NA diseases are ultra-rare, and therefore it is difficult to find support groups for patients and families specific to their needs. However, there are support groups in many communities for patients with other movement disorders, such as Parkinson's disease and Huntington's Disease.
I recently discovered - about 60 miles from me in Orlando, Florida - the Parkinson's & Movement Outreach Program of the Neuroscience Institute at Advent Health, a large local healthcare system. Their program is an official Huntington's Disease Society of America Centers of Excellence Partner, and they work with patients (and their carers) with all kinds of movement disorders. I found them very welcoming. With high gas prices and ongoing COVID issues, traveling can be a challenge, so it is very convenient that most of their programs can be accessed online via Zoom, even the exercise programs.
Social worker Tori Ricci states: "You will see we have 3 support groups for Caregivers – 1. HD specific caregiver support group, 2. Caregiver support group for anyone caring for a loved one with a movement disorder diagnosis, and 3. Fannies friends – for daughters and granddaughters caring for a parent or grandparent experiencing any level of cognitive decline. However, any caregivers are welcome to join ANY of our wellness or exercise classes too! So Movement as medicine, music therapy, brain fitness, neuromove, etc."
If any reader has a tip about similar local resources, please contact us to share in future NANews for the benefit to others. You may send your suggestions to ginger@naadvocacy.org and/or joy@naadvocacyusa.org.