NA News Issue 38 - 28th February 2022
Neuroacanthocytosis information and research
Roll Over Beethoven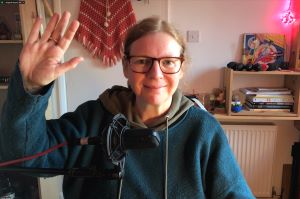 "The Sing for Joy group comes together on zoom every Thursday afternoon at 4pm. It is led by the great talent of Cerys Hogg (right) at the piano who posts the words to familiar and popular songs printed on the screen. A dozen or so of us just sing along while she sings and plays the keyboard. There are a lot of Beatles songs and some oldies but goodies. The humour of the group is great fun; one of the participants uses topical backgrounds to illustrate the composer or the place. What I really enjoy about the choir is that I can sing out as loud as I possibly can."
Cerys has a reputation for delivering entertaining and engaging classes; her classes are stimulating and enjoyable with creativity at the heart. Her singers have these words to say about the choir:
"Our weekly SFJ choir is something we really look forward to, especially during lockdown. It is lovely seeing the same people every week, to ask how they are, and to be able to sing our hearts out for an hour or so, which leaves us feeling uplifted and positive."
"With sing for joy, I learnt how to find my voice and overcome my nerves. Singing with Sing for Joy is fun, educational and a good form of therapy."
​
"My voice had become very weak to the extent that it was often reduced to a barely audible squeak. I was prescribed voice therapy which made me aware that without long term voice exercises, I would lose the gains I had made. I joined Sing for Joy. For me, singing is a wonderful voice maintenance tool: thoroughly enjoyable, therapeutic and socially constructive."
There is growing evidence for the positive effect of music and singing for patients with Movement Disorders, to a degree that cannot be attained by medical intervention. The Joy of music, of singing and of sharing that joy with others, the rhythm and ability to use the voice to express emotion can only be beneficial.
There are growing numbers of choirs across many countries one can join and try out till you find the one that is more suited to the songs you like and your voice. Try a local Huntington's or Parkinson's patient group to ask if they may know of a local choir.