NA News Issue 40 - 21st November 2022
Neuroacanthocytosis information and research
Adrian Danek Presents New Insights on NA Syndromes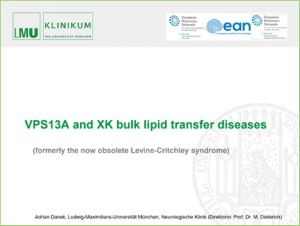 For a number of years now, the European Reference Networks for Rare Neurological Diseases (ERN-RND) and Neuromuscular Diseases (ERN-EuroNMD) and the European Academy of Neurology (EAN) have organized freely accessible educational webinars on topics within their scope of interest (https://www.ern-rnd.eu/education-training/webinars/). For the second time, Adrian Danek, University of Munich (LMU), Munich, Germany, was invited to review the diseases of interest for the NA community and to present the most recent insights. In late October, he spoke on "VPS13A and XK bulk lipid transfer diseases (formerly the now obsolete Levine-Critchley syndrome)", giving a clinical review on the diseases as well as presenting the recent breakthrough concerning the final diagnosis of patients first encountered in the 1960s in Boston.
Descendants of that family, originally studied by Irving Levine, had made contact with the NA patient advocacies and the group of researchers contributing to the GeneReviews® resource provided by the US National Center for Biotechnology Information (https://www.ncbi.nlm.nih.gov/books/NBK1354). It turned out that not only their family side branch carried a mutation in XK, the McLeod gene, but that also the index patient of Levine´s 1968 report was affected by exactly that condition. A quest of many years duration (see NA news issue 29 of 2017) was thus successfully completed (http://newsletter.naadvocacy.org/1ksy8liwtpm?a=2&p=52686232&t=16038454).
In summary, the further use of the term Levine-Critchley syndrome makes no sense, as the patients previously collected under this label have been proven to be affected by two distinct conditions: by VPS13A mutations in the case of Critchley´s Kentucky family (as shown in 2011) and by XK mutations in the New England family of Levine. Prof. Danek also pointed out why these two conditions are so similar and so easily mistaken for one another: most recent basic science research, including from his lab (Gabriel Miltenberger-Miltenyi in support of work in Aaron Neiman´s lab), demonstrated physical interaction of the two respective proteins, the scramblase XK and the lipid transfer "tube" VPS13A.
Likewise, use of the term "neuroacanthocytosis" in a scientific context makes no longer any sense as - in addition to cases affected by XK or VPS13A disease - also patients suffering from PKAN (pantothenate kinase associated neurodegeneration) have historically been grouped under that label. For advocacy work the label might be retained, but its heterogeneity must be kept in mind if one proceeds to discuss the situation of the individuals affected by the various underlying conditions.
Prof. Danek´s ERN-RND webinar is still available for viewing on https://www.youtube.com/watch?v=INjEk4oc_mY, as is his previous presentation https://www.youtube.com/watch?v=zbAIPsFhjms that covers more of the clinical information on the subject. His slides are available via https://www.ern-rnd.eu/education-training/past-webinars/.