NA News Issue 35 - 20th November 2020
Neuroacanthocytosis information and research
FUNDRAISING: In memory of Ed Ayala | Drew Smith birthday appeals raises funds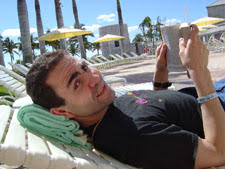 We send our grateful thanks to Loida and Jacqui Ayala for their request for donations to NA be made in tribute to Ed in the summer. Their kind appeal has raised over $1000 for our research fund. Our best wishes to them and the extended family. Ed's stories are still with us.
--
On his Facebook page Drew Smith in MA asked for donations to NA for his birthday in the summer: "For my birthday this year, I am asking for donations to the ADVOCACY FOR NEUROACANTHOCYTOSIS PATIENTS. I have chosen this nonprofit because they are searching for clues to a cure which is important to me! I hope you will please consider contributing to support a good cause and to celebrate with me! Your donation will make an impact and will mean a lot to many. Whether you donate $5 or $500, every little bit will help. Thank you for your support."
When his fundraiser closed the Advocacy received $5000 from Drew's appeal. THANK YOU Drew -- this is a wonderful result, and we appreciate your fundraising for the further research into NA.