NA News Issue 41 - 17th March 2023
Neuroacanthocytosis information and research
TOP STORY
Invitation to 11th International Meeting on Neuroacanthocytosis Syndromes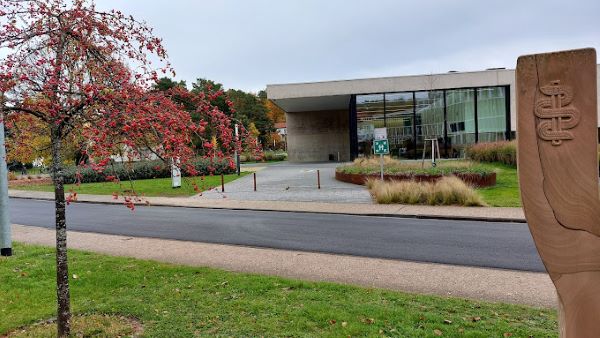 Thank you for reading this 41st edition of NA News. We are pleased to share exciting details about the upcoming 11th International Meeting on Neuroacanthocytosis Syndromes to be held in Homburg/Saar, Germany in mid-September at University Hospital of Saarland University (seen in photo above). We also invite you to read reflections from the very first Glenn Irvine Prize-winner, news of the upcoming 12th VPS13 Forum, a report on a patient-initiated fundraising "super" success story, scientific commentary on acanthocytes and Huntington's disease, an important partnership-building effort, an inspiring piece from a patient, and more. Read on...

You are cordially invited to the 11th International Meeting on Neuroacanthocytosis Syndromes to take place from 15th – 17th September 2023 in Homburg/Saar, Germany. After the 2021 online meeting organised by colleagues in Barcelona, it will be the first in-person meeting since the one in 2018 held in Dresden.
The meeting will be hosted in the University Hospital of Saarland University in Homburg/Saar. This 45,000 inhabitant town is situated in Saarland, the smallest territorial state in Germany. It is in the southwest of Germany, a 2-hour train ride from the International Airport Frankfurt/Main. Together with the patient advocacy organizations and the scientific board, I am developing an interesting 3-day program to meet the interests of patients, their relatives and caregivers as well as clinicians and scientists.
Attendance at the meeting is free, provided you register by August 31. Travel and accommodation must be arranged and financed individually. For more information and the options to register and to submit an abstract, please visit this website: https://tickets.kwt-uni-saarland.de/IMNS2023/.
While the meeting will be held on the campus of the University Hospital of Saarland University, the nearby Hotel Stadt Homburg will offer housing at a discounted rate. Please mention Lars Kaestner and the meeting when making your reservations.
I look forward to welcoming you in September.



Deadline Nears on Nominations for the Glenn Irvine Prize
Deadline: March 31, 2023

The Advocacy for Neuroacanthocytosis Patients recently announced it is seeking nominations for the Glenn Irvine Prize, named in honor of the co-founder of The Advocacy.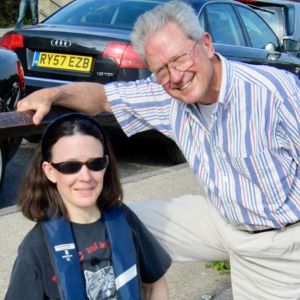 Dear colleagues and friends,
The Advocacy for Neuroacanthocytosis Patients asks for nominations for the Glenn Irvine Prize to be awarded this September.
The Glenn Irvine Prize seeks to pay tribute to Glenn's service to patients and to further his aspiration to find a cure for diseases related to VPS13A and XK.
The prize is an award of GBP 5,000 given to a junior investigator in the field to encourage them to pursue further research towards a cure.
The first winner of the Glenn Irvine Prize, in May of 2020, was Jae-Sook Park from Stony Brook, USA, who had proven the molecular interaction of the VPS13A and XK proteins.
The award will be presented at the 11th NA symposium in Homburg, Germany (September 15-17, 2023) where the winner is expected to give a presentation.
We are asking academic supervisors for a personalized and informative letter of support.
You should not only mention past achievements but in particular give an impression whether the nominee will remain committed to the field over the next years.
Ultimate goal – of course – are treatment perspectives for patients affected by disease related to VPS13A or XK.
Apart from the above, there is no particular format for nominations.
Please, send nominations and letters of support to danek@lmu.de.
With our best regards,
Adrian Danek, Hans Jung and Ruth Walker (prize committee)
Photo: Glenn Irvine with daughter Alex


First Winner of Glenn Irvine Prize Shares Insights
Jae-Sook Park in Her Own Words

Jae-Sook Park, a research scientist at Stony Brook University in upstate New York, was the winner of the first Glenn Irvine Prize in 2019. Recently she took some time to reveal how the prize has impacted her research.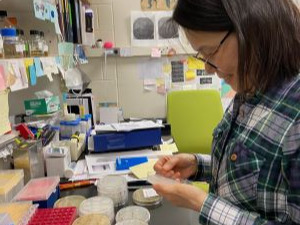 Doing research, especially in basic science fields which seem to be far away from answering immediate questions for human health, can be like passing through a long tunnel alone. I didn't mind that my research wasn't directly involved in human health or disease because my research always fulfilled my own interests. However, receiving the first Glenn Irvine prize woke me up. I realized my VPS13 research is actually involved in understanding the nature and cause of the rare diseases; VPS13 disease and McLeod Syndrome. I have started asking how my research could be utilized for easing the symptoms of patients, although I understand it won't happen overnight.
VPS13 research has progressed rapidly. We now know that VPS13 proteins are long conduit-shaped lipid transporters that functions membrane contact sites and that VPS13A protein interacts with a scramblase XK in order to mediate lipid transfer. However, the mechanism by which lipid transport by VPS13 is controlled is still unclear. Therefore, my ongoing VPS13 research is focused on the question of the regulation of VPS13 protein activity.
I greatly appreciate support of the Advocacy. The best way I can respond to your support is that to continue to investigate and understand the nature of VPS13 in hope that what we learn can be applied to the development of methods to improve the quality of patients' lives.


Acanthocytes Identified in Huntington's Disease?
Misshapen Red Blood Cells Lead to Confusion

NA researchers cast doubt on recent discovery of acanthocytes in Huntington disease patients.
In June 2022, a team led by Dr. Yueyi Yu from Capital Medical University Beijing (China) published an article in Frontiers in Neuroscience reporting that they found acanthocytes in the blood of people with Huntington's disease (HD). While they only found these cells in four out of 40 people with HD, the authors concluded that acanthocytosis might be a new clinical characteristic of HD.
Thorny, misshapen red blood cells, referred to as "acanthocytes", are found in several diseases, such as chorea-acanthocytosis (VPS13A disease) and McLeod syndrome (XK disease). They can also be seen with severe liver problems, malnutrition or vitamin deficiency. However, acanthocytosis (the presence of these misshapen red blood cells) has been always regarded as a feature which distinguishes HD from the so-called "neuroacanthocytosis syndromes" (VPS13A disease and XK disease).
For this reason, our community took note of this article. After thoroughly studying the manuscript and figures we concluded that the majority of misshapen red blood cells shown in this work should be classified as "echinocytes" rather than acanthocytes. Echinocytes are less misshapen, and have more regular spines on their surfaces, and can occur with various forms of red blood cell (physical) stress and do not indicate any particular disease.
Therefore, we strongly doubt that the conclusion from the Beijing group is warranted, and we submitted a commentary article on this issue to Frontiers in Neuroscience. Here, we further explained the reasons for our judgement and extended the discussion on other related topics, such as the classification of misshapen red blood cells and the difficult role of acanthocyte testing for clinical diagnosis in general. We also proposed new methods for the exact determination of red blood cell shapes using artificial intelligence. In addition, we suggested that the diagnosis of "neuroacanthocytosis" should not rely solely on the presence or absence of acanthocytes, but should instead include a broader spectrum of laboratory tests.
Further studies are needed to determine if misshapen red blood cells actually occur in HD patients. This will extend our understanding of similarities and differences between HD and neuroacanthocytosis syndromes.
For further reading, please refer to:
Peikert K, Storch A, Hermann A, Landwehrmeyer GB, Walker RH, Simionato G, Kaestner L, Danek A. Commentary: Acanthocytes identified in Huntington's disease. Front Neurosci. 2022 Nov 4;16:1049676. doi: 10.3389/fnins.2022.1049676.
https://www.frontiersin.org/articles/10.3389/fnins.2022.1049676/full
Original article describing acanthocytes in Huntington's disease patients:
Yu Y, Lu Y, Wang F, Lu Y, Xie B, Meng X, Tang Y. Acanthocytes Identified in Huntington's Disease. Front Neurosci. 2022 Jun 6;16:913401. doi: 10.3389/fnins.2022.913401
Figure legend
Distinction of acanthocytes from echinocytes based on 3D images and classification with artificial neural networks as proposed by our group (figure modified from Peikert K, Storch A, Hermann A, Landwehrmeyer GB, Walker RH, Simionato G, Kaestner L, Danek A. Commentary: Acanthocytes identified in Huntington's disease. Front Neurosci. 2022 Nov 4;16:1049676).
Discocytes are normal red blood cells. There are many different types of malformed red blood cells. Thorny, irregularly misshapen red blood cells are referred to as acanthocytes, whereas cells with many small, evenly distributed thorny projections are called echinocytes.]
https://www.frontiersin.org/articles/10.3389/fnins.2022.913401/full


Upcoming 12th VPS13 Forum - March 27, 2023
Topic: Muscle and Nerve

You won't want to miss the upcoming VPS13 Forum on "Muscle and Nerve" on March 27th. Read on to learn about the upcoming forum and two prior forums.
Check out our new VPS13 Forum logo to the right, courtesy of Kevin Peikert.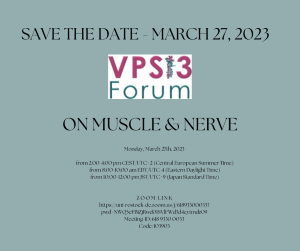 It should be an interesting forum on March 27th with presenters from Germany, Switzerland, and Italy. The planned agenda is as follows:
The wide neuromuscular spectrum of VPS13A disease demonstrated by a case series
Anne Buchberger
Department of Neurology, Klinikum rechts der Isar, Technical University Munich, Munich, Germany

Neuromuscular involvement in McLeod syndrome
Hans Jung
Department of Neurology, University Hospital and University Zurich, Zurich, Switzerland

Muscle findings in Neuroacanthocytosis: hypotheses and observations
Marina Melone1 & Pietro Chiurazzi2
1Center for Rare Neurological Diseases, HCP representative for MetabERN and EURO-NMD networks
Department of Advanced Medical and Surgical Sciences, InterUniversity Center for Research in Neurosciences, University of Campania "Luigi Vanvitelli", Naples Italy
2Sezione di Medicina Genomica - Genomic Medicine Dipartimento di Scienze della Vita e Sanità Pubblica Università Cattolica del Sacro Cuore Roma, Italy

Integrated analysis of skeletal muscle from Vps13a-/- mice revealed neuro-/myopathic (?) metabolic signature and impaired autophagy
Lucia De Franceschi
Department of Medicine, University of Verona & AOUI Verona, Policlinico GB Rossi, Verona, Italy

We hope to see many of you at the event, which we hope will result in an extensive exchange of observations and ideas. Apart from the presentations, the discussion is the main focus of the forum.
Details:
Monday, March 27th, 2023
from 2:00-4:00 pm CEST/UTC+2 (Central European Summer Time)
from 8:00-10:00 am EDT/UTC-4 (Eastern Daylight Time)
from 10:00-12:00 pm JST/UTC+9 (Japan Standard Time)
Z O O M L I N K
https://uni-rostock-de.zoom.us/j/61893300033?pwd=NWQ5eFBiZjRwd01SVlFWd3d4cytmdz09
Meeting-ID: 618 9330 0033
Code: 103903
***
The 10th VPS13 Forum was held on November 28th and attendees enjoyed a variety of topics:
- Dysphagia in rare movement disorders such as Huntington's disease (Cornelius Weaver, University of Aachen and Johanniter-Krankenhaus Stendal, Germany);
- Amantadine treatment for hyperkinetic movements in chorea-acanthocytosis (Luis E. Zayas, University of Tennessee, USA); and
- "Why we should get rid of the term neuroacanthocytosis - or shouldn't we?" (Adrian Danek of the Ludwig-Maximilians-Universität München, Germany and Ruth Walker of the Mount Sinai School of Medicine, New York City, NY, USA)
The 2-hour session concluded with a medical Question and Answer session for patients, carers, and family members. Panelists included: Adrian Danek, Andreas Hermann, Ginger Irvine, Hans Jung, Gabriel Miltenberger-Miltenyi, Alzbeta Mühlbäck, Kevin Peikert, Ruth H Walker, Cornelius Werner, and Joy Willard-Williford.
Finally, the 11th VPS13 Forum, held on January 30th, featured speakers on "Actors at membrane contact sites: VPS13 and others." Topics covered:
- Modelling VPS13 interactions with membranes: Ideas and speculations on lipid transfer function (Laura Swan of the University of Liverpool);
- Autophagy dysfunction in Beta-Propeller Protein-Associated Neurodegeneration (BPAN): Insights from the Dictyostelium model (Ricardo Escalante of the Instituto de Investigaciones Biomédicas Alberto Sols, Madrid, Spain); and
- Interactions between yeast Vps13 and its adaptor proteins (Elizabeth Conibear and Kevin Jeffers of the University of British Columbia in Vancouver, Canada)
The next meeting of the VPS13 Forum is scheduled for May 22nd, 2023 (topic: bridge-like lipid transfer proteins).


NA-USA Partners with RARE-X

Bob Metzger, NA-USA board member and McLeod syndrome patient, files this report on the brand new partnership between NA-USA and Rare-X.

In January and February some members of the board of NA Advocacy USA, Inc. (Susan Wagner, Julie Kerner and Bob Metzger) participated in an on-boarding class to learn about launching a disease Data Collection Program with RARE-X. RARE-X (https://rare-x.org/about/), a program of Global Genes (https://globalgenes.org/), is a non-profit created to accelerate rare disease research and treatment by removing barriers for data collection and sharing. It is a platform to collect, connect and share data.
We are just beginning the process so there will be more communication soon, but we are excited to provide a summary of this upcoming endeavor. Collecting data is an essential step on a rare disease research journey and an important way for patients and their caregivers to contribute to advancing care for their communities. RARE-X has developed a comprehensive platform to facilitate this data collection.
Here are just a few of the purposes and benefits of the RARE-X program:
- A structured and standardized system
- RARE-X manages the unique governance requirements of different countries
- Streamlines researcher access to data
- Informs researchers how our diseases change over time
- Has the ability to connect to existing data sources
- Enables better data to use in clinical trials
- Speeds up research and drug development
- Patient owned and managed
- No cost to patients or organizations
- No cost to researchers (scientists/pharma)
- Ongoing , long-term guidance and support
Soon we will have a Zoom meeting that will provide the necessary details for patients and their caregivers to get started on this exciting journey of sharing their information.


Neuropathology of Neuroacanthocytosis Project Update

Neuroacanthocytosis Advocacy USA is pleased to share a brief update on recent progress on the Neuropathology of Neuroacanthocytosis project.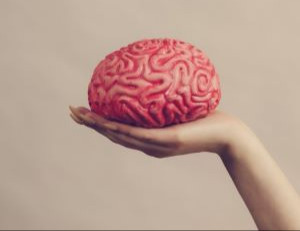 We have recently completed our initial studies of brain tissue from people affected by chorea-acanthocytosis (ChAc; VPS13A disease) and have some intriguing findings which potentially point to abnormal processing of lipids (fats) which make up cell membranes. This fits with our recent understanding of the functions of the proteins affected in VPS13A disease and XK disease (McLeod syndrome), and could account for the appearance of the thorny red blood cells in addition to the other effects upon the brain.
Posters/presentations on the Neuropathology of Neuroacanthocytosis project were recently sent to the 99th Annual Meeting of the American Association of Neuropathologists (https://www.neuropath.org/meetings) and the Neuroscience Annual Retreat hosted by the Friedman Brain Institute (https://icahn.mssm.edu/research/friedman/events/annual-retreat. Ricky Ditzel will be presenting posters for these events. The manuscript is currently being generated and a first draft should be submitted by the end of the month.
We are continuing to receive tissue from collaborators, and are grateful to those affected by these diseases and to their families for their generous donations which have made this work possible so far.


Super Fundraiser on Super Bowl Sunday
Patient Drew Smith raises over $3000 for research on Super Bowl Sunday

Drew Smith recently combined his love of sports with his talent for fundraising and his heart for his fellow ChAc patients around the world.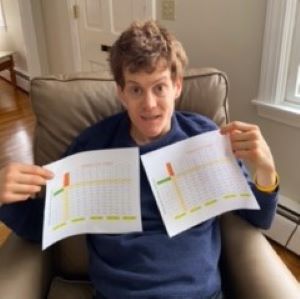 Using a grid system he designed himself, Drew Smith hosted a Super Bowl fundraiser for Neuroacanthocytosis Advocacy USA (NA-USA), raising a grand total of $3,125 for the Neuropathology of Neuroacanthocytosis brain research project at the Icahn School of Medicine at Mount Sinai in New York City. Drew sold 200 squares at $25 a piece with half the proceeds going to fund the winners and the other half going to NA-USA.
If you follow Drew on Facebook or even in the NA News, you will know that he is a lover of all things sports. Drew took his love of American professional football to a whole new level, using the Super Bowl as an opportunity to raise funds.
NA-USA is grateful to Drew for his passion and his commitment to finding a cure for neuroacanthocytosis diseases.
The NA Advocacy USA Welcomes a Second New Trustee
Additional Trustees Still Needed

Neuroacanthocytosis Advocacy USA, Inc. is pleased to welcome Ricky Ditzel to its Board of Directors. Read on to learn more about him in his own words.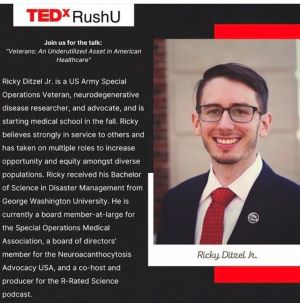 Hello everyone, my name is Ricky Ditzel Jr. and I am a research associate at Mount Sinai in New York City working alongside Dr. Ruth Walker on the Neuropathology of Neuroacanthocytosis project. Originally from Fort Lauderdale, Florida, I graduated from George Washington University in 2020 with a B.S.H.S. in Disaster Management and recently completed the Post Baccalaureate premedical certificate program at Columbia University. I joined the United States Army when I was 18 and served for eight years as a critical care flight paramedic until I was honorably discharged in 2020. I have always felt compelled toward neurology and neuroscience having an older brother who was diagnosed with cerebral palsy when he was 5 years old—Johnny is my best friend and a source of constant inspiration in my life. While my time researching VPS13A and XK Disease has been short, it has been deeply impactful on my life and I grow increasingly passionate about it daily. I am currently on track to matriculate into medical school in the Fall of 2023, but I would love to remain involved with the NA-USA and hope to continue finding ways to bring more awareness to the cause. I am humbled and grateful to be working with so many amazing people on these projects and to support the organization and the unparalleled work being done!
Editor's note: Ricky will be running in the TCS London Marathon in April, raising funds for the Michael Fox Foundation.
If you would like to learn more about the role of a trustee/board member with NA Advocacy, please contact Ginger Irvine at ginger@naadvocacy.org. For information on NA-USA, please contact Susan Wagner at susan@naadvocacyusa.org or Joy Willard-Williford at joy@naadvocacyusa.org.


Patient Encourages Others to Live Life to its Fullest
Mike Koutis With an Important Word

Mike Koutis, shown here with fans Candi DiMarzio and Kristy Mohr, loves life. While life with ChAc is a constant struggle, with a desire to inspire others he recently posted this post on Facebook and agreed to allow us to share it here.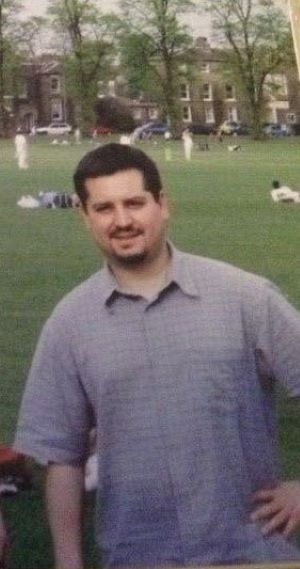 I just wanted to tell all of my friends that I hope you are pursuing your passion. Life is too short not to be happy. I graduated from the University of Manitoba with my engineering degree and worked for a year but I wasn't happy so I went back to school and after two more years I got my teaching degree.
I loved teaching and after subbing for a year decided to go to England and teach there for a year. It was an amazing experience! I was not only working in my dream job, as a grade 3 Special Needs Teacher, but I was also living my life to the max.
I went to Wimbledon and watched some of the greatest tennis players, visited Cambridge, spent a week visiting my aunt for the first time in Manchester, where I also got to watch a football match at Old Trafford Stadium and got to experience St.Patrick's Day in Dublin.
I also made many friends while in England, some of whom I still keep in touch with, including my very good friend Elizabeth.
After my year in England I came back home, where I was able to continue my dream of teaching, this time as an Adult Educator. It was a great job as I not only got to teach but also developed my own curriculum. But I think the greatest thing to come out from this experience was that I got to teach a great guy whom I'm still friends with today. Brendan Mohr and his wife Kristy and their children Ray and Serena are like family now.
I'm grateful for the life I have lived but I'm not ready to give up hope that a cure for NA will be found.


Need for Translators
Do you have translation skills?

The Advocacy continues to seek translators to aid with NA News and other activities.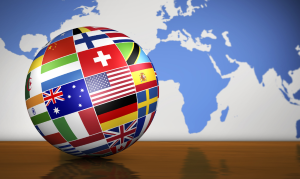 Our patients are located all over the world, and so we can use some help with translations of NA News from English to other languages. Help us reach more patients, doctors, and researchers. We are looking for French, German, Italian...any language. If you can help us extend our reach to others, please contact Ginger Irvine at ginger@naadvocacy.org.