NA News Issue 40 - 21st November 2022
Neuroacanthocytosis information and research
TOP STORY

Thank you for reading this 40th edition of NA News. We are pleased to share the exciting news of the latest research, as well as inform you of opportunities to be a part of the wider NA community conversation via our online Forums and upcoming in-person symposium in Homburg, Germany in September 2023. We also share our need for news articles and photos, for translators, for trustees, and for fundraising, and highlight our presence on social media. You can also catch up on patients around the world and more. Read on...
--
Important and exciting recent developments in our understanding of bulk lipid transfer and NA syndromes were highlighted at the recent joint congress of German national societies (DGN) for neurology, neuropediatrics and neuropathology AKA "NeuroWeek. Read on...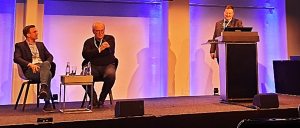 At the joint congress of the German national societies for neurology (DGN), neuropediatrics and neuropathology, with more than 5000 participants (November 1st-5th, 2022), we organized a 90 minutes symposium dedicated to VPS13 research. Nine speakers reviewed "Recent developments in bulk lipid transfer and the so-called 'neuroacanthocytosis' syndromes".
Only quite recently, location and function of the members of a hitherto little-known protein family (VPS13 A through D) were unraveled. Located at contact sites of membranes of different cell organelles, these proteins act as conduits for non-vesicular lipid transfer. Deficiency of these proteins likely causes alterations of membrane lipid dynamics. The corresponding human genes lead to hereditary neurological disease, such as chorea-acanthocytosis (VPS13 A disease), Cohen syndrome (VPS13B disease), familial parkinsonism with Lewy bodies (VPS13C disease) or various ataxic conditions (VPS13D disease, earlier names: SCAR4, SCA24, or SCASI). Because of molecular interaction, the disease spectrum also involves McLeod syndrome (XK disease) and possibly other conditions.
The presenter team consisted of senior and junior clinical and basic scientists. Bernhard Landwehrmeyer from Ulm University by introduction highlighted possible connections with Huntington's Disease (HD). While we subsequently presented a bench to bedside and vice versa approach to VPS13A and XK disease, our invited speakers covered additional aspects of the lipid dynamics at membrane contact sites in neurodegenerative diseases (D. Großmann, Rostock), Cohen syndrome (W. Seifert, Berlin) as well as clinical spectrum and treatment by deep brain stimulation in VPS13D-associated disease (N. Brüggemann and M. Pauly, Lübeck). Current experimental work from the Rostock group was covered by A. Spranger who presented lipidomics data from VPS13A disease red blood cells. At the final day of "Neuroweek" our session was mentioned in the movement disorders highlights session (B. Balint, Zurich) because of the importance of a novel pathomechanism that eventually may translate to more prevalent diseases such as Parkinson´s disease and HD.
We are grateful to the DGN scientific board for recognizing this future perspective by including our symposium in the program. The local audience, albeit small (approximately 50), was select and the hybrid format of the congress, including the availability of recordings, will allow for a much wider impact of our symposium.
Article photo shows Chairs Kevin Peikert (left) and Adrian Danek (middle) discuss with Bernhard Landwehrmeyer (right) who introduced VPS13 related research in relation to future insights into Huntington's Disease.



Adrian Danek Presents New Insights on NA Syndromes
Adrian Danek presented a highly instructive educational webinar on NA diseases on October 25, 2022. It is still available online.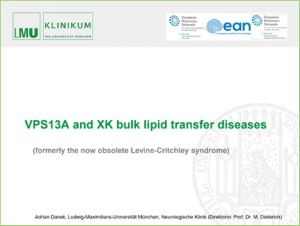 For a number of years now, the European Reference Networks for Rare Neurological Diseases (ERN-RND) and Neuromuscular Diseases (ERN-EuroNMD) and the European Academy of Neurology (EAN) have organized freely accessible educational webinars on topics within their scope of interest (https://www.ern-rnd.eu/education-training/webinars/). For the second time, Adrian Danek, University of Munich (LMU), Munich, Germany, was invited to review the diseases of interest for the NA community and to present the most recent insights. In late October, he spoke on "VPS13A and XK bulk lipid transfer diseases (formerly the now obsolete Levine-Critchley syndrome)", giving a clinical review on the diseases as well as presenting the recent breakthrough concerning the final diagnosis of patients first encountered in the 1960s in Boston.
Descendants of that family, originally studied by Irving Levine, had made contact with the NA patient advocacies and the group of researchers contributing to the GeneReviews® resource provided by the US National Center for Biotechnology Information (https://www.ncbi.nlm.nih.gov/books/NBK1354). It turned out that not only their family side branch carried a mutation in XK, the McLeod gene, but that also the index patient of Levine´s 1968 report was affected by exactly that condition. A quest of many years duration (see NA news issue 29 of 2017) was thus successfully completed (http://newsletter.naadvocacy.org/1ksy8liwtpm?a=2&p=52686232&t=16038454).
In summary, the further use of the term Levine-Critchley syndrome makes no sense, as the patients previously collected under this label have been proven to be affected by two distinct conditions: by VPS13A mutations in the case of Critchley´s Kentucky family (as shown in 2011) and by XK mutations in the New England family of Levine. Prof. Danek also pointed out why these two conditions are so similar and so easily mistaken for one another: most recent basic science research, including from his lab (Gabriel Miltenberger-Miltenyi in support of work in Aaron Neiman´s lab), demonstrated physical interaction of the two respective proteins, the scramblase XK and the lipid transfer "tube" VPS13A.
Likewise, use of the term "neuroacanthocytosis" in a scientific context makes no longer any sense as - in addition to cases affected by XK or VPS13A disease - also patients suffering from PKAN (pantothenate kinase associated neurodegeneration) have historically been grouped under that label. For advocacy work the label might be retained, but its heterogeneity must be kept in mind if one proceeds to discuss the situation of the individuals affected by the various underlying conditions.
Prof. Danek´s ERN-RND webinar is still available for viewing on https://www.youtube.com/watch?v=INjEk4oc_mY, as is his previous presentation https://www.youtube.com/watch?v=zbAIPsFhjms that covers more of the clinical information on the subject. His slides are available via https://www.ern-rnd.eu/education-training/past-webinars/.


Forums Feature the Latest Updates on Research
Summaries of Recent VPS13 Forums 8 and 9; Save the Date for Forum 10

From Rostock, Germany, Kevin Peikert provides an update on recent VPS13 Zoom Forums and invites participation in Forum 10.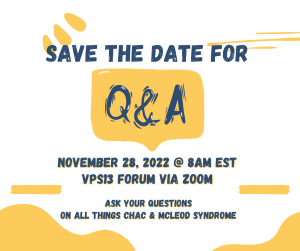 The VPS13 Forum continues its now storied tradition of exchanging ideas and new developments in the field of neuroacanthocytosis and all aspects of the VPS13 protein family. The format helps us to keep the global discussion going in the time between the in-person meetings of the neuroacanthocytosis community, the next of which will be held in Homburg, Germany September 15-17, 2023. We continued with Forums number 8 and 9 on July 25th and September 26th respectively, and the next Forum, our 10th, will be held on Monday, November 28th.
The upcoming 10th Forum will include a question and answer session. This is a unique opportunity for patients, family members, carers, and clinicians to get answers from the most knowledgeable people in the field. The forum's success is highly dependent on questions being submitted in advance, so that our panel of experts will be better able to respond. Please don't be shy. There are no dumb questions. On the contrary chances are others have been thinking about the same thing as you. By submitting questions you can help them as well as yourself.
Our panel of experts include Adrian Danek, Andreas Hermann, Ginger Irvine, Hans Jung, Gabriel Miltenberger-Miltenyi, Alzbeta Mühlbäck, Kevin Peikert, Ruth H Walker, Cornelius Werner, and Joy Willard-Williford.
We encourage patients, family members, and caregivers to submit medical questions prior to the meeting and to indicate if a translation from English into their mother tongue will be needed. Please submit your questions to: kevin.peikert@med.uni-rostock.de.
Additional topics included in this Forum will be
Dysphagia in rare movement disorders such as Huntington's disease
Cornelius Werner
University of Aachen and Johanniter-Krankenhaus Stendal, Germany
Why we should get rid of the term neuroacanthocytosis – or shouldn´t we?
Adrian Danek & Ruth Walker
Ludwig-Maximilians-Universität München, Germany & Mount Sinai School of Medicine, New York City, NY, USA
Details:
Monday, November 28th, 2022
from 2:00-4:00 pm CEST/UTC+1 (Central European Time)
from 8:00-10:00 am EDT/UTC-5 (Eastern Standard Time)
from 10:00-12:00 pm JST/UTC+9 (Japan Standard Time)
Zoom-link:
https://uni-rostock-de.zoom.us/j/62806527413?pwd=ZXk0TG5vQ1M5dDA4WEFYVk5xV2RVQT09

Meeting-ID: 628 0652 7413
Code: 676204
In case you are not receiving these invitations by mail yet, please contact kevin.peikert@med.uni-rostock.de and you will be added to the mailing list. Let's keep the conversation going!
---
At the 8th VPS13 forum held on July 25, Ruth Walker in New York shared news of the Neuropathology of Neuroacanthocytosis project at the Icahn School of Medicine, and also presented on Sleep Disorders in McLeod syndrome; Gabriel Miltenberger in Lisbon presented on Lipidomics of neuroacanthocytosis syndrome, and Adrian Danek in Munich shared his thoughts on the descriptor "Levine syndrome" as being obsolete.
Speakers at the 9th VPS13 forum in September included Tim P. Levine of University College London Institute of Ophthalmology and LesleyJ. Bruce of the Bristol Institute for Transfusion Sciences, National Health Service Blood and Transplant. Tim Levine spoke on the topic "an evolutionary perspective on Chorein/VPS13A: from membrane contacts to lipid transfer bridges and the repeating beta groove. , while Lesley Bruce shared updates on red cell membrane in health and disease.


Need for Translators
Do you have translation skills?

The Advocacy is seeking translators to aid with NA News and other activities.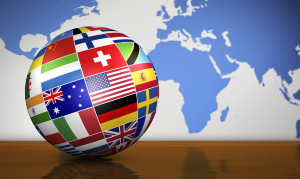 Our patients are located all over the world, and so we can use some help with translations of NA News from English to other languages. Help us reach more patients, doctors, and researchers. We are looking for French, German, Spanish, Italian...any language. If you can help us extend our reach to others, please contact Ginger Irvine at ginger@naadvocacy.org.
Charity Manager Attends Conference
Mette Jolly attends Beacon Drug Repurposing for Rare Diseases Conference
The Advocacy's new charity manager reports on her October attendance at the Beacon Repurposing for Rare Diseases Conference.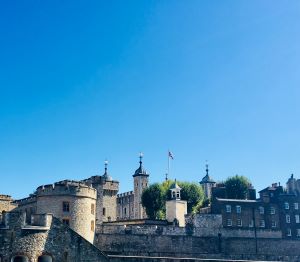 On Monday 10th October Mette was pleased to attend the Beacon Drug Repurposing for Rare Diseases Conference at America Square near the Tower of London.
Drug repurposing is the process of identifying new uses for medicines that are outside of the scope of their existing licence, in other words taking an existing drug and using it to treat a different disease from the one it was originally developed to target. Drug repurposing can contribute to lowering the costs and accelerating the development of rare disease treatments.
At the meeting in London, 150 delegates from advocacy groups, bio science companies, academia and umbrella organisations gathered to exchange research and experiences. Expert speakers from the UK and beyond highlighted major projects driving repurposing across the UK and Europe.
Presentations also included patient stories and the introduction of new resources (see links below) A particular highlight was an example of a patient group working with scientists and a non-profit biosciences company on recruiting for a clinical trial.
The overall conclusion of the day was positive with consensus being that drug repurposing, which has had a difficult start, is becoming increasingly mainstream.
https://eatris.eu/projects/remedi4all-building-a-sustainable-european-innovation-platform-to-enhance-the-repurposing-of-medicines-for-all/


The NA Advocacy USA Welcomes New Trustee
Additional Trustees Still Needed

Neuroacanthocytosis Advocacy USA, Inc. is pleased to welcome Julie Kerner to our Board of Directors. Julie's considerable experience and knowledge of drug development from research to commercial launch, especially in the arenas of Neurology, Hematology, and orphan diseases, position her to offer a unique contribution to the board.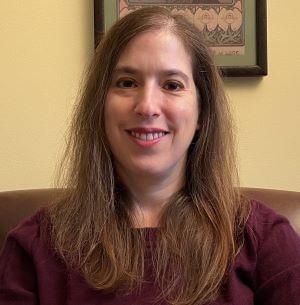 Julie Kerner is the founder and lead consultant at Kerner Solutions LLC. Under her leadership, companies create portfolio and platform strategies, develop countless therapeutic programs, and launched multiple therapies. Previously, Julie worked at Fulcrum Therapeutics and Aliada Therapeutics where she developed R&D long range plans and drove organizational change. Prior to that, she worked at AVROBIO and Wave Life Sciences where she implemented organizational excellence initiatives and oversaw creation of an emerging Ophthalmology therapeutic area. Julie's first industry position was at Biogen where she started the R&D strategy group, worked in global marketing and New Product Planning group.
Over her career, Julie has discovered a love for strategic planning and building from the ground up. She is committed to patient centricity and advocacy, sitting on the boards of Newton Wellesley Hospital, National Braille Press, as well as Neuroacanthocytosis Advocacy USA. Julie has a BS in BioPsychology from Tufts University and a PhD in Neuroscience from the Sackler School of Graduate Medical Sciences, Tufts Medical School in Boston, Massachusetts.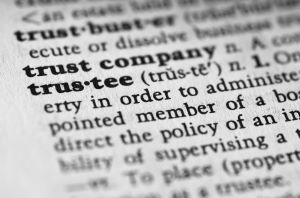 While welcoming Dr. Kerner, both The Advocacy for NA Patients and Neuroacanthocytosis Advocacy USA continue to cast the net for additional trustees. These important individuals work together to accomplish the goals of their respective organizations. Both NA Advocacy, based in London, and NA-USA based in Florida, are looking for a few good individuals with a heart for finding a cure for VPS13A and McLeod syndrome and for supporting individuals with these disorders, and their families.
At its most basic, to truly be an effective nonprofit trustee or board member requires having good character, a strong commitment to the cause, the gift of time, and a willingness to use personal and professional resources to advance the organization's mission. If you would like to learn more about the role of a trustee/board member with NA Advocacy, please contact Ginger Irvine at ginger@naadvocacy.org. For information on NA-USA, please contact Susan Wagner at susan@naadvocacyusa.org or Joy Willard-Williford at joy@naadvocacyusa.org.


Social Media News
New Twitter and Instagram Accounts for The Advocacy/Fundraising Made Easy

Mette Jolly, Charity Manager for The Advocacy, announces new Twitter and Instagram accounts for the organization, while NA-USA board member Joy Willard-Williford shares an easy way to raise funds via Facebook.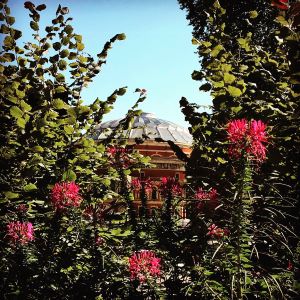 The Advocacy is excited to announce that we have set up new accounts on both Instagram and Twitter.
On our Instagram account, we post news from the Advocacy and photos taken near our office in Central London such as this lovely shot from Kensington Gardens (spot the Royal Albert Hall between the leaves). On Instagram we hope to meet new friends and spread the message about NA.
If you have a high-resolution image from your hometown or somewhere you've visited, you can send it to us accompanied by a few words describing the place or activity it depicts and we will share it with our followers, giving you credit, of course!
Link: https://www.instagram.com/na_advocacy/
On Twitter we hope to pick up news from the global rare disease community, connect with other advocacies and share newly published research.
Link: https://twitter.com/NA_Advocacy
Please give us a follow and encourage your friends and family to follow us too.
---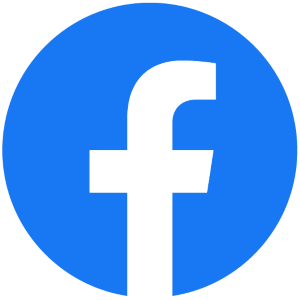 If you have a Facebook account, there is a very easy way to raise funds for either The Advocacy or for NA-USA. It is often most successfully done in conjunction with a birthday or anniversary celebration, but can be initiated anytime. To create a nonprofit fundraiser simply...
On your computer, login to Facebook.
On the upper right hand corner, click the Menu icon. One of the options under Create is Fundraiser. Select and click.


The "Choose a Nonprofit" box will appear.




Type into the search bar to find the nonprofit you want to raise money for, either

Advocacy for Neuroacanthocytosis Patients or
Neuroacanthocytosis Advocacy USA Incorporated


Select the nonprofit.

Follow the prompts on the left, enter:




The goal amount of money you want to raise

The currency you want the funds to be in


Trustees Meet Patients Around the World
Travel plans include visits to patients and their families

Candi DiMarzio, a board member of NA-USA, files this report on her visit to ChAc patient Mike Koutis in Canada.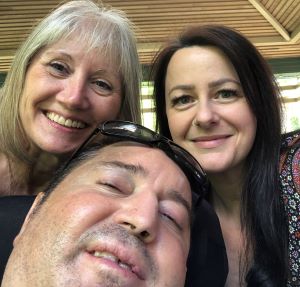 Mike Koutis befriended me on Facebook over 5 years ago. Somehow through the grapevine someone gave Mike my name. The rest is history.
Mike has a hard time sleeping and so do I. I would get an alert that I received a message on my phone anytime from midnight on and it would be Mike. We would chat for an hour or so. After a year or so Mike said he would like to have his friend message me if that was ok. He said "you will love her." That friend was Kristy Santangelo Mohr.
Soon after interacting with Kristy, Mike went into cardiac arrest and was unresponsive. Kristy notified me right away to tell me about Mike. He was in ICU for about 2 weeks. During those 2 weeks Kristy was Mike's patient advocate. She was so effective that now everyone that knows Mike knows Kristy. I started sending Mike a card every week after he got back to the nursing home and that has continued for over 4 years.
Kristy would call me on Messenger when she was visiting Mike and we got to communicate.
Soon after my daughter Heidi passed away Mike's brother Kerry passed away from ChAc. I asked Mike what his mothers name and address was because I wanted to send her a card. Soon after Mrs. Koutis received my card she called me. Our friendship started to build from there.
I kept telling Mike that someday I was coming to Canada to personally meet him. Then COVID came. In the summer of 2021 the border was reopened between the US and Canada. My only prerequisite was I had to come in the summer as I could not manage the frigid Canadian winter. My trip was planned to go to Winnipeg, Manitoba Canada on July 20th, 2022. When I landed in Winnipeg I thought to myself this is going to be odd not ever meeting Kristy. I was getting my luggage and turned around and there stood Kristy. She was everything I thought she would be and more.
Walking into Mike's nursing home room was a moment I will never ever forget. We both started crying and held onto each other tightly. While I was there Kristy asked me if there was anything in particular I would like to do after seeing Mike. I told her I wanted to meet her family, her mother and Mike's mother. I wanted to be sure to let her mother know what a terrific daughter she raised. Needless to say my goodbye was very very difficult.
Mike was everything I thought he would be and more. I hope to be able to go see Mike again. Mike and Kristy are now family. This was a vacation I will never ever forget.
Candi wasn't the only board member on the move. Check out our gallery below for more adventures in travel for patients and trustees.


Patient Shares Artwork
Alex Irvine, lover of all things cat

Alex Irvine loves cats. She is also an accomplished artist. Click on to see her lovely watercolor contribution to NA News.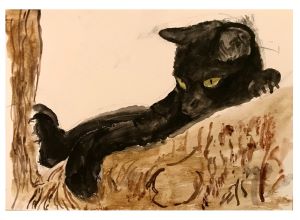 Check out Alex Irvine's lovely watercolor of her cat, Coco. Her love of this cat is evident.
NA News is seeking artwork, news of activities, and photos for its upcoming issues. We love love love to share your stories and gifts with the wider NA world!
Send articles, photos, and artwork to joy@naadvocacyusa.org.
Rare Disease Day 2023
Plans formulating for Rare Disease Day in February

Rare Disease Day 2023 is right around the corner. Check out plans for this special day being made by Jennifer Irvine, and be thinking how you might use this day to highlight the need for research funding for and awareness of NA diseases.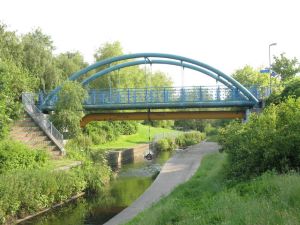 Please add Rare Disease Day, 28th February 2023, to your diaries.
In London, Jennifer Irvine will take part in a sponsored walk along the Waterlink Way with a group of her friends.
The Waterlink Way is a walking and cycling route between Greenwich and Beckenham that follows the Ravensbourne river, connecting a number of parks and green spaces in South East London, including Ladywell Fields and Brookmill Park. The eight mile route was designed to be accessible, with a large number of railway stations including Kent House, Lower Sydenham, Ladywell, Lewisham and Greenwich en route.
We will also hold a coffee morning at the Advocacy.
Have a look at the Rare Disease Day website to learn how people marked Rare Disease Day around the world in 2022. You can download logos and posters to help you advertise your event.
Save the Date - Upcoming 11th International Meeting on Neuroacanthocytosis Syndromes

Grab your calendars! You won't want to miss the 11th International Meeting on Neuroacanthocytosis Syndromes in Homburg, Germany, September 15-17, 2023, organized and chaired by Lars Kaestner of the Saarland University.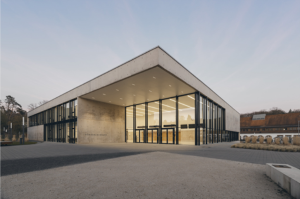 As an international community of clinicians, scientists, and families dealing with chorea-acanthocytosis (VPS13A disease) or McLeod syndrome (XK disease), respectively, we had enjoyed the virtual "Barcelona" symposium in 2021.
But now, it is urgently time to meet again in person! To continue our conversation at "on-site" meetings, the last of which was held in Dresden, Germany more than four years (!) ago, we are pleased to announce that we are currently planning the 11th International Meeting on Neuroacanthocytosis Syndromes as an in-person meeting at the Saarland University in Homburg, Germany, September 15 - 17, 2023.
The symposium will be organized and chaired by Prof. Lars Kaestner. More details will follow soon.