NA News Issue 41 - 17th March 2023
Neuroacanthocytosis information and research
TOP STORY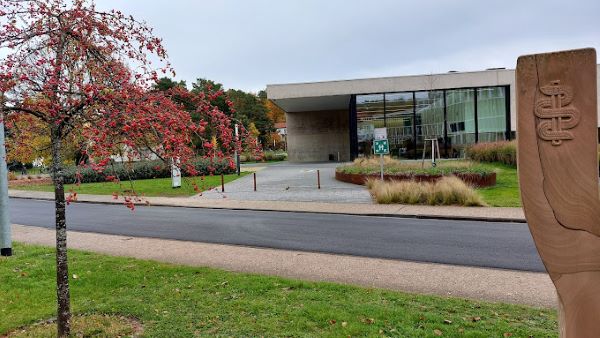 Thank you for reading this 41st edition of NA News. We are pleased to share exciting details about the upcoming 11th International Meeting on Neuroacanthocytosis Syndromes to be held in Homburg/Saar, Germany in mid-September at University Hospital of Saarland University (seen in photo above). We also invite you to read reflections from the very first Glenn Irvine Prize-winner, news of the upcoming 12th VPS13 Forum, a report on a patient-initiated fundraising "super" success story, scientific commentary on acanthocytes and Huntington's disease, an important partnership-building effort, an inspiring piece from a patient, and more. Read on...

Read More »
First Winner of Glenn Irvine Prize Shares Insights

Jae-Sook Park in Her Own Words

Jae-Sook Park, a research scientist at Stony Brook University in upstate New York, was the winner of the first Glenn Irvine Prize in 2019. Recently she took some time to reveal how the prize has impacted her research.

Read More »

Upcoming 12th VPS13 Forum - March 27, 2023

Topic: Muscle and Nerve

You won't want to miss the upcoming VPS13 Forum on "Muscle and Nerve" on March 27th. Read on to learn about the upcoming forum and two prior forums.

Check out our new VPS13 Forum logo to the right, courtesy of Kevin Peikert.

Read More »

Super Fundraiser on Super Bowl Sunday

Patient Drew Smith raises over $3000 for research on Super Bowl Sunday

Drew Smith recently combined his love of sports with his talent for fundraising and his heart for his fellow ChAc patients around the world.

Read More »

Patient Encourages Others to Live Life to its Fullest

Mike Koutis With an Important Word

Mike Koutis, shown here with fans Candi DiMarzio and Kristy Mohr, loves life. While life with ChAc is a constant struggle, with a desire to inspire others he recently posted this post on Facebook and agreed to allow us to share it here.

Read More »



Published by The Advocacy for Neuroacanthocytosis Patients, Ginger Irvine

HOW TO UNSUBSCRIBE: At the top and the bottom of each cover page of NA News you will see a link to "Unsubscribe". Click this and your email will no longer be included in future mailings.